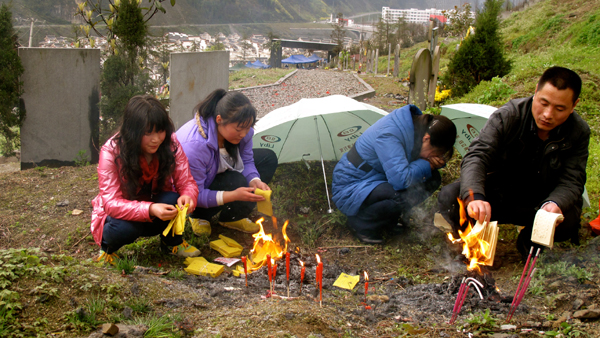 Tibetan Li Guihua, 41, (in blue) sobs as her family mourns her 11-year-old daughter and nephew during the Qingming (Tomb-Sweeping) Festival earlier this month at the Cave of 10,000 Dead, a mass grave in Yingxiu township in Sichuan's Mianzhu city. The children were casualties of the earthquake. [Photo by Erik Nilsson / China Daily]
Erik Nilsson goes on series of journeys through Sichuan's quake zone and finds life not only goes on, it gets better.
Survivors say time seemed to stop that day in Sichuan's earthquake-hit area on May 12, 2008.
Many who lived through the 8.0-magnitude Wenchuan earthquake explain that it was difficult to imagine the future that day, when the province shuddered and its buildings fell, leaving about 90,000 people dead or missing.
Related readings:


 Village in Sichuan rebuilt after big quake


 Reconstruction in quake-hit Sichuan nearly finished


 Sichuan residents settle into new homes


 Flower burials introduced in Sichuan
But both time and people have continued to move forward in the quake zone.
Sichuan has mostly emerged from its cocoon of despair, metamorphosing into a better place to live than it was before the catastrophe.
New homes, schools and hospitals - improbably spacious, safe and modern for the country's mountainous countryside - have taken shape. Brick by brick, these structures have risen as the ruins of their previous incarnations are carried away. Day by day, the people have reclaimed hope for the future, while clearing away their dismay.
My 10 trips throughout the quake zone revealed a place where rebirth, reconstruction and hope have gradually usurped the death, destruction and hopelessness that pervaded immediately after the disaster.
When I first visited the quake zone six months after the disaster, a friend with whom I traveled pointed out many survivors were then like some of the condemned buildings that withstood collapse - they appeared fine from the outside, but their foundations were ruptured.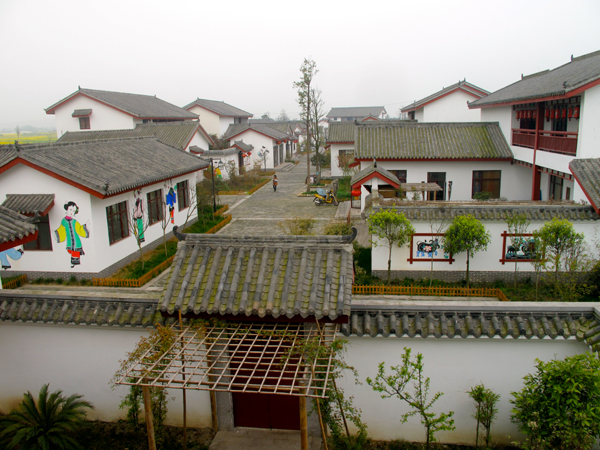 Shejiantai village in Sichuan's Mianzhu city has been rebuilt into a picturesque tourism zone after the quake damaged its squalid housing. The exteriors of its 2,700 homes are now adorned with the lunar new year's folkart for which the settlement is famous. [Photo by Erik Nilsson / China Daily]
Now, once-traumatized survivors have been snapping out of their stupor.
Mothers who lost their only children have been giving birth to new babies.
Teahouse owners say local people are splurging for better brews, because the catastrophe reminded them of mortality's inevitability and that they should enjoy their time on earth.
Perhaps the only thing in Sichuan mightier than the seismic violence that mauled the province is its people's indomitability.
No reconstruction effort can bring back those who were lost that day. But Sichuan's recovery has ensured the survivors escaped death to live a better life.
This is the story that time has been telling in Sichuan's quake zone.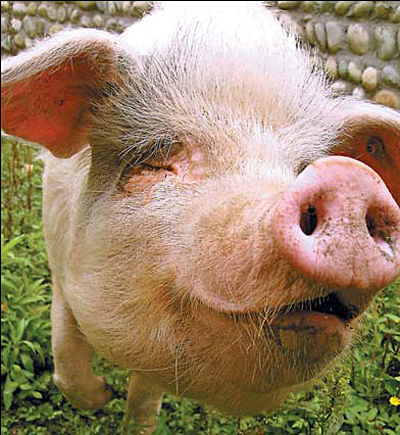 Zhu Jianqiang - or Indomitable Pig - has become a mascot of post-quake perseverance for surviving 36 days in a collapsed farmhouse - subsisting on charcoal and rainwater. After the emaciated swine moved to Dayi township's Jianchuan Museum in 2009, he ate so zealously that he gained too much weight to walk and had to be put on a diet and exercise regimen. [Photo by Erik Nilsson / China Daily]