A worker drowned in the oil slick during the oil spill clean-up operations at Dalian's Port in Liaoning province on July 20, 2010, the Xinhua News Agency reported Monday.
Zhang Liang and Han Xiaoxiong, both soldiers from the city's fire brigade, were trying to fix an underwater pump when they were engulfed by a wave at around 8:30 am. Zhang died; Han was saved by his co-workers.
A pipe transporting crude oil from a ship to a storage tank blew up on Friday evening, causing a second pipeline nearby to explode. No one was injured. The port has since resumed normal container operations.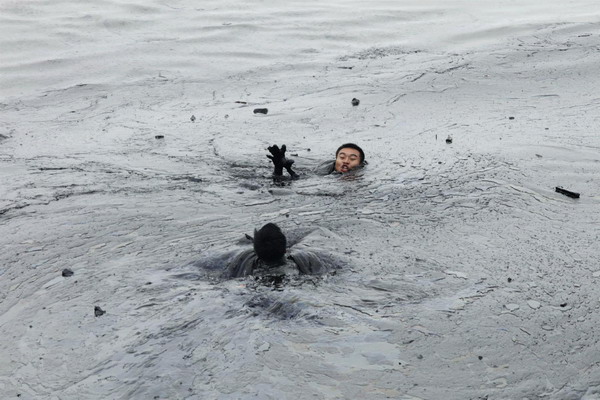 A worker attempts to rescue his co-worker from drowning in the oil slick while attempting to fix an underwater pump during the oil spill clean-up operations at Dalian's Port in Liaoning province July 20, 2010. [Photo/Agencies]