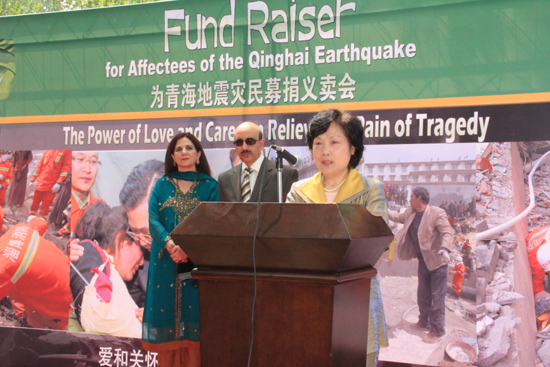 Chief Guest Madam Le Aimei, wife of Chinese Foreign Minister Jiang Jiechi speaks at a fundraising Meena Bazaar arranged at the Pakistani Embassy in Beijing for the relief of the victims of the Qinghai earthquake on May 15, 2010. Ambassador Masood Khan and his wife are also present on the podium. [Photo courtesy of Pakistan Embassy in Beijing] 
The event was jointly organized by Pakistan Embassy and the Pakistani Women Association, Beijing. The Bazaar included Pakistani food and beverage stalls, Pakistani snacks and sweets, Pakistani handicrafts, Pakistani Henna and games for the children. A large number of Pakistanis including businessmen, students, media as well as Chinese officials, business representatives, media organizations, think tanks, universities and members of the diplomatic corps attended the Bazaar.
In her speech, Madam Le Aimei expressed gratitude of the Government and people of China to the Government of Pakistan for supporting China in their hour of trial. She also thanked the Embassy for holding the Fundraiser. She particularly appreciated the Government of Pakistan for announcing a relief package for the earthquake victims. She termed it as a genuine expression of all-weather Pakistan-China friendship.
Addressing the gathering, Ambassador Masood Khan reaffirmed the sentiments of sympathy, support and solidarity of the Pakistani people and leadership for the people of China.