CHANGSHA - The body of an elderly man has been recovered from the debris of a landslide, bringing the death toll from rainstorms in central China's Hunan Province to 12, the Hunan flood-control and drought relief headquarters said Thursday.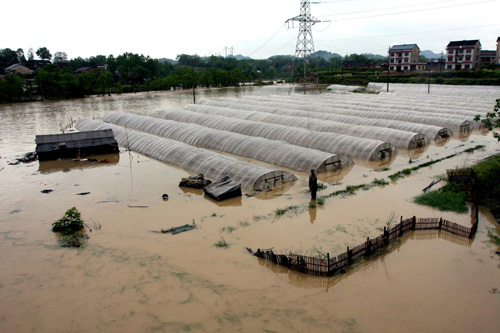 A strawberry field in Loudi, Central China's Hunan province is flooded on May 13, 2010. [Photo/Xinhua]
About 42,000 people were relocated to safe areas over the past day as the rainstorms lashed more than 280 townships in Hunan from 2 pm Wednesday, said a statement from the headquarters.
The latest victim was a 72-year-old man who died in a rain-triggered landslide in Xupu County of Huaihua City, where four bridges collapsed and 68 roads were cut by flooding, said Zhou Shengqi, publicity officer of Xupu.
The rainstorms damaged 10,200 hectares of crops and destroyed 480 residential buildings in the county, Zhou said.
The violent weather occurred five days after storms that killed 11 people and left two others missing in Hunan.
Heavy rains were forecast to continue to pound Hunan for the next five days and neighboring Guangdong Province for the next two days, provincial meteorological authorities said Thursday.
In Jiangxi Province, which borders Hunan and Guangdong, water levels reached more than 6 meters on roads near the railway station in Xinyu, the worst-hit city in Jiangxi.
It was the strongest rain in the city since 1984, said Ge Suping, director of the Xinyu government.
The average rainfall in the province was 52 mm in 24 hours, according to the provincial meteorological station
Torrential rains pelted many places in east China's Anhui Province on Wednesday and would continue for another nine days, according to the provincial meteorological station.
The weather would damage the harvest of wheat and rape, Anhui's major agricultural products, Niu Yunsheng, director of the provincial agricultural bureau said Thursday.
Rainstorms in south China since early May have left at least 86 people dead and 16 missing, causing direct economic losses of almost 5.9 billion yuan ($864 million dollars), said the Ministry of Civil Affairs.