Opinion
/
China Dream in expats' eyes
Editor's Pick: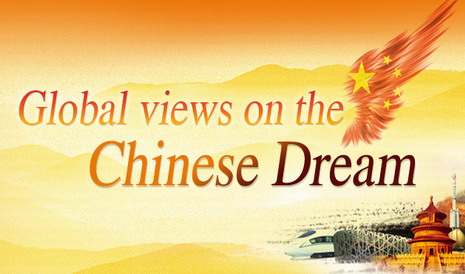 Since Chinese President Xi Jinping first used the concept of "Chinese Dream" on Nov. 29, 2012 in Beijing, it has resonated with the world's common aspiration of development. Here we bring stories by expats who pursue their own Chinese Dream.

[2015-07-16 17:28]
I am not an education specialist but I have children. I understand the need for good teachers and schools.

[2015-07-09 11:20]
I have seen attitudes of foreign people about Chinese and China. Some have just arrived or have been in China for some time and some have never even stepped here.

[2015-07-01 17:46]
There is a Chinese saying that reads: "if you want to witness five-thousand-year history of China, come to Shanxi.

[2015-06-26 16:07]
China has always been a planned economy where the government played a big role in deciding how the country should be controlled.

[2015-06-26 11:11]
Today I want to share some tips which I think will help you to fit into China. What do you do differently to be linked up with the Chinese system?

[2015-06-16 16:52]
So many in China talk about their love of Chinese culture and how foreigners don't understand it.

[2015-06-15 17:25]
Last Monday we completed the 7th Annual Foreigner Olympics in Daqing and as it was a long, hot day it all ended as expected with a few cold beers and an exceedingly sore body over the next few days.

[2015-06-10 11:17]
The Dragon Boat Festival is almost upon us and here's an adventure from last year's celebration.

[2015-06-03 14:39]
I have a few friends who are planning to visit China or study here within the next year. Each of them has asked me for advice, tips and suggestions for their trip.
[2015-05-26 17:02]
According to Chinese history, the Tang Dynasty was the period Chinese classical literature flourished with outstanding achievements in poetry.

[2015-05-22 17:46]
Since raising my kids, my life did not feel very purposeful. These past few years, teaching English have been so. Thank you, China, for allowing me a purposeful life.

[2015-05-20 17:11]
When I first started classes at Three Bridges English School I was pretty nervous. I took advice from the more experienced teachers and presented classes as best I could.
...