Opinion
/
China Dream in expats' eyes
Editor's Pick: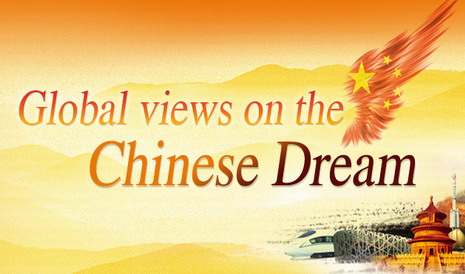 Since Chinese President Xi Jinping first used the concept of "Chinese Dream" on Nov. 29, 2012 in Beijing, it has resonated with the world's common aspiration of development. Here we bring stories by expats who pursue their own Chinese Dream.

[2014-03-14 09:58]
I arrived in China in November 2011, six months later I sign up for the hsk 4 and I got it without no worries. Many people asked me then "but how"?

[2014-03-11 10:25]
When I first time visited Beijing in 2006, the city' s metro map looked very simple. I remember it was easy for our touring bus to go to any destination.
[2014-03-10 09:49]
First experiences in China can sometimes be hard to take in. One such experience would have to be my medical checkup.

[2014-03-06 10:25]
To many foreigners who have never visited China, this enormous country is still a mysterious fantasy land. Or a harsh and intolerant place.

[2014-03-06 10:25]
'Die Laughing!' in English means that you were laughing so much that your laughter was uncontrollable, and could be likened to being 'tickled to death!'

[2014-03-04 10:53]
I don't know if I'm just cantankerous through getting older, but I had way more fun and rode more emotional roller coasters when I first came to China.

[2014-03-03 10:00]
President Xi gave a speech to several of the key government leaders in Beijing. He talked about the 12 core socialist values that were laid out and reiterated last year.
...