Premature to declare IS fully defeated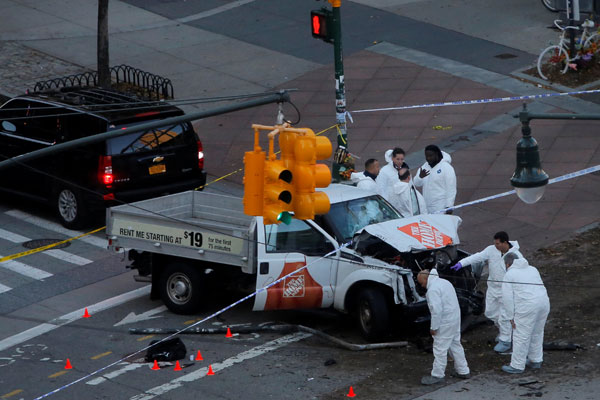 Police examine a rented truck used by a driver who fatally ran over eight people on a bicycle path on the West Side of Manhattan on Oct 31. [Photo/Agencies]
IRANIAN PRESIDENT HASSAN ROUHANI declared the end of the Islamic State group on Tuesday, while Iraqi Prime Minister Haider al-Abadi said on the same day the terrorist group had been defeated from a "military perspective". Beijing News commented on Thursday:
The two state leaders' optimism cannot hide the truth that although "the foundation and roots (of the IS group) have been destroyed" the remnants will continue. Still, the international campaign to combat the IS extremist group has gained ground.
Since the terrorist group no longer controls any major population centers in Syria or Iraq, it is tempting to celebrate the "final collapse" of the IS. But that should wait. The IS fighters have shown notorious resilience and adaptability in the past. The remnants of the terrorist organization may resort to guerrilla tactics or bide their time while recruiting followers overseas before reemerging.
The terrorist group has lost most of its strongholds, but not its leaders, who retain control over eight global branches and networks. That said, the group may work harder to deepen operational connectivity across its global enterprise in order to create a new terrorist center. The IS is not the only terrorist group either, and its military success over the past several years has inspired wannabes like Tahrir al-Sham in Syria.
Teheran's declaration of the defeat of the IS also has geopolitical implications, not least when Washington and Moscow are yet to make such a claim.
A senior Iranian military commander paid tribute to the "thousands of martyrs" killed in operations organized by Iran to defeat the militant group in Syria and Iraq. That, on the one hand, aims at elevating the role of Iran in regional anti-terrorist efforts and dissuading extra Western sanctions.
On the other, closer security ties with Syria and Iraq might help Iran regain some footing in Middle East affairs and better cope with challenges from the Sunni-majority alliance led by Saudi Arabia.
And let us not forget the United States, under Donald Trump's watch at least, aims to contain Iran's rise with its Sunni Muslim-ruled allies. There is a possibility that the IS remnants will be able to rise in the midst of an intensified geopolitical tussle.