Do foreigners find online shopping fun or pain?
Editor's note: Due to its convenience, affordable prices and quick delivery, online shopping is increasingly making life easier for expats in China. As we count down to Singles Day, the world's largest shopping festival, our foreign readers share their online shopping stories with us.
Ari James (US)
One of the first things I remember being told about China is Taobao. I was told that China had amazing online shopping options and impossibly quick delivery times. Upon my arrival in Nanjing in February, it did not take me long to start ordering things from Taobao. I slowly became versed in the language of the platform, and soon, I was getting addressed as 亲 (dear) by a variety of different stores I had purchased things from. I was finagling for extra gifts in my purchases, and becoming a more well-versed Taobao user by the day. I bought affordable bags, shoes, and my crowing joy – a humidifier that puts the most expensive ones on Amazon to shame. The most amusing thing I have ordered has to be the collection of 15 large doughnut pillows to give to my teachers after my semester at NJU. The doughnut pillows arrived the very next day in a giant bag that I lugged to campus like Santa Claus. I have had my own issues with online shopping though, one of which is when I purchased an iPhone case, only to spot a glaring typo when it came in the mail. Instead of 'guaranteed to make them weep' emblazoned on my phone case, it was instead, 'CUARATEED.' I kept the phone case. It's all part of the fun of online shopping after all. I personally can't wait for all the sales this coming 11/11!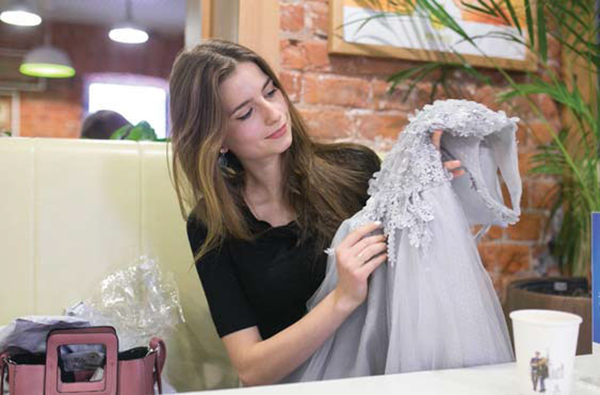 A 22-year-old online buyer in Moscow checks a dress in November that was purchased on a Chinese e-commerce platform. Bai Xueqi / Xinhua