Iran declares end of IS group
TEHERAN - Iranian President Hassan Rouhani declared the end of the Islamic State group on Tuesday while a senior military commander thanked the "thousands of martyrs" killed in operations organized by Iran to defeat the militants in Syria and Iraq.
"Today with God's guidance and the resistance of people in the region we can say that this evil has either been lifted from the head of the people or has been reduced," Rouhani said in an address broadcast live on state TV.
"Of course the remnants will continue but the foundation and roots have been destroyed."
Major General Qassem Soleimani, a senior commander of the elite Revolutionary Guards, also said IS had been defeated, in a message sent on Tuesday to Iran's supreme leader which was published on the Guards' news site, Sepah News.
Supreme Leader Ayatollah Ali Khamenei congratulated Soleimani on the defeat of IS and said it was a blow against the United States in the region.
In June, the IS group carried out its first attack in Iran, killing 18 people in Teheran, testing the government's belief that by backing offensives against the group elsewhere in the region it could keep the militant group away from Iran.
Iranian media have often carried video and pictures of Soleimani, who commands the Quds Force, the branch of the Guards responsible for operations outside Iran, at frontline positions in battles against extremists in Iraq and Syria.
The Revolutionary Guards has been fighting in support of Syrian and Iraqi governments for several years.
More than 1,000 members of the Guards, including senior commanders, have been killed in Syria and Iraq.
Iraqi forces captured the border town of Rawa, the last remaining town there under IS control, on Friday, signaling the collapse of the so-called caliphate it proclaimed in 2014 across vast swathes of Iraqi and Syrian territory.
Victory in Iraq
Iraqi Prime Minister Haider al-Abadi on Tuesday said that he will declare the final defeat of the IS group after the Iraqi security forces eliminate the extremists from the desert.
"Daesh (IS group) has been completely eradicated from the military perspective, but during the next short stage, the final clearing of Daesh will take place in the desert of western Anbar province," Abadi said in a televised news conference after his weekly cabinet meeting.
"After the completion of the clearing, a final defeat will be declared in Iraq," Abadi said.
After the liberation of Rawa, Abadi congratulated the people of Iraq and the security forces on the liberation of the remaining city under IS control, attributing the IS defeat to "the great strength and power of heroic armed forces and the successful planning for battles".
Xinhua - Reuters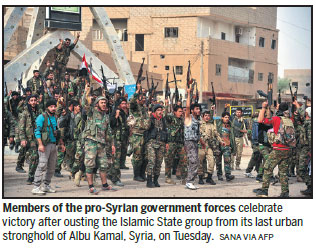 (China Daily 11/23/2017 page12)
Today's Top News
Editor's picks
Most Viewed