Troops back Muslim rebels fighting pro-IS group
DATU SALIBO, Philippines - The Philippine military said it has teamed up with old foes behind a long-running Muslim insurgency as it looks to eject a breakaway gang of radical militants pledging loyalty to Islamic State.
As artillery shells and rockets pounded targets nearby, soldiers were seen mingling freely with several hundred Moro Islamic Liberation Front fighters who have joined an assault on gunmen in the southern island of Mindanao.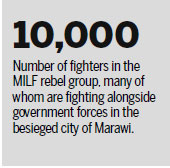 The joint operation is the latest tactic by the Philippine government to try to stamp out pro-IS fighters, after months of battling a separate faction of militants who have besieged the city of Marawi, about 100 kilometers to the north.
Major-General Arnel dela Vega said militant groups had taken the opportunity "to build up their forces" while government troops were engaged in the Marawi conflict.
The alliance with MILF included "providing them with indirect fire support and even air support and other expertise," he said, adding that the awkwardness of fighting alongside former longtime foes had evaporated.
A rebellion by the 10,000-strong MILF has claimed more than 100,000 lives, by government estimates. The group signed a peace treaty in 2014 but will not disarm before the government passes a proposed law granting autonomy to the Muslim regions of the mainly Catholic nation. But small factions continue to fight, as frustration builds over the bill, which has stalled in Congress.
Feeding intelligence
The military is feeding intelligence to the MILF in the fight against about 60 militants led by Esmael Abdulmalik, alias Abu Turaifi, a former MILF guerrilla leader, according to dela Vega.
But he said troop units would not merge with the MILF fighting groups because they had "different operational tactics and procedures" in the conflict, which began in early August on wild marshlands some 800 kilometers south of Manila.
Mohagher Iqbal, a senior MILF leader, said the breakaway Abu Turaifi-led militants wanted to steal the MILF's guerrilla army and had the same goals as the pro-IS militant faction seeking to carve out territory in Marawi.
The Marawi battle has left nearly a thousand people dead, but several dozen gunmen continue to resist months of airstrikes and still hold hostages.
Agence France-presse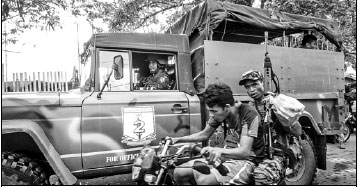 A MILF fighter aboard a motorcycle speeds past a military vehicle in Maguindanao, on the Philippine island of Mindanao, on Tuesday.Ferdinandh Cabrera / Agence Francepresse
(China Daily 09/07/2017 page11)
Today's Top News
Editor's picks
Most Viewed