Sustaining China-Africa friendship through knowledge sharing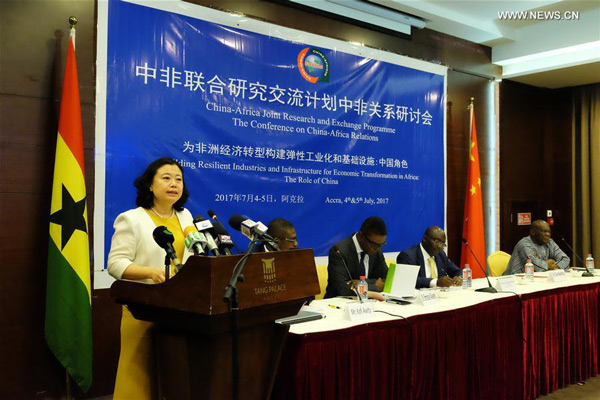 Chinese Ambassador to Ghana Sun Baohong delivers a speech at a conference on China-Africa relations in Accra, capital of Ghana, on July 4, 2017.[Photo/Xinhua]
Sustaining China-Africa friendship lies not on charity but on "sharity", which is knowledge sharing. In an increasingly knowledge-based and interconnected world, sustained and shared prosperity relies not on what countries have in terms of natural resources, but on what their citizens are able to learn. Therefore, skills and the ability to learn updated knowledge could be crucial in determining the success of Agenda 2063 to create the "Africa we want". African Development Bank (AfDB) in 2014 said that with Africa's population increasing rapidly, from more than one billion to an estimated 2.5 billion by 2060, the continent will have a young and increasingly urbanized workforce, which presents an opportunity to reap a "demographic dividend". Seizing that opportunity will depend on access to education, skills, and updated knowledge. This is because a literate population is considered to be one of the basic requirements for societal development. Therefore, visionary leaders throughout time have emphasized the role of knowledge sharing in reforming and informing their societies. Knowledge sharing is an essential tool in boosting productivity, and the end result must be the ability to use, replicate, improve, and possibly, re-sell the technology, especially in informal economies.
Knowledge sharing has always been one significant factor that was emphasized from the beginning of China-Africa cooperation. When Premier Zhou Enlai visited Ghana in 1964, he proposed the Eight Principles for Technical Assistance and Economic Aid to other nations in a press conference in Ghana. The principles point out that the purpose of China's development assistance is assisting recipient nations to gradually attain self-reliance, independent development, offer best-quality equipment and material of its own manufacturing. It also emphasized that in offering technical assistance, China should ensure that the personnel of the recipient nation completely master such systems. Evidently, this is a knowledge sharing process comprising of multilevel factors including the provision of technology, equipment and training personnel. I realized that African nations do not need aid; instead, they need to motivate the young people, create capacity and empower them to be job-creators rather than job-beggars.
The unanimous decision at the FOCAC forum for China-Africa Cooperation in South Africa in 2015, where President Xi Jinping promised more cooperation between China and Africa in education and training only confirms China and Africa's awareness to the importance of knowledge sharing in boosting development. In the past, China has given a lot of concessional loans to African nations, but nowadays, China wants African people to have the capacity to create wealth for themselves. That is why training which comes in form of knowledge sharing is now the core in China-Africa cooperation. In China-Africa cooperation, knowledge sharing is not a one-way process; it is continuously moving in a two-way direction. In the mid-1970s when China planned to construct a pipeline from the gas-rich province of Sichuan to Shanghai, the construction of this project was new to China because it required stud-welding technology. However, during this period, Algeria had stud-welding pipe factory, so the Chinese delegates traveled to Algeria to learn the skills in 1975. The other instance was the period when two Chinese delegates visited the diamond mining firm in Zaire (now Democratic Republic of Congo (DRC)). The two Chinese delegates were introduced to the advanced experience of mining and prospection of diamonds and the metallogenic theory. The visit made the Chinese delegates realize their personal disadvantage in practice and theory. This act of knowledge sharing further strengthened China-Algeria relations and China-DRC relations.
Since the knowledge sharing is a two-way process, China also shared knowledge with Africa in diverse areas, but I will focus on agriculture and manufacturing which has been identified by African nations as the top priority area. In 2003, 500 Chinese experts took part in the Nigerian National Special Program on Food Security. The experts were based in the 36 Nigerian States; they were able to assist the benefiting communities to overcome the lack of water supply for drinking and irrigation while training local farmers in planting, fishing, and beekeeping skills. Also, from 2001 to 2012, China collaborated with Ethiopia to develop vocational and technical education and training in agriculture. China has sent over 400 experts to Ethiopia to train 1,800 teachers in local agricultural vocational colleges and 35,000 agricultural technicians. In Burkina Faso, Deborah Brautigam talks about how China introduced intensive Chinese technology to boost the production of rice during the late 1980s. The technology made the net income of each farmer's family climbed from 400,000 to 800, 000 African Francs ($1300-2600). This achievement was closely linked with the Chinese experts' hard work, who taught the local Burkina Faso's the organizational capacity, experience, and management skills of farming.
In terms of building Africa manufacturing, the international communities are recognizing the crucial role of manufacturing in eliminating absolute poverty and promoting sustainable development. In respect to manufacturing, Andrew Carter raised a very significant fact in his report titled "Advanced industries create economic growth, but they will never be mass employers". The author asserts that every one job in manufacturing creates 2.2 "domestic" jobs – 0.8 locally and 1.4 outside the region. That is why, directly or indirectly, the manufacturing sector supports almost 39 million jobs – nearly 25 percent of all United States employment. For that reason, the Ethiopian government has been strongly committed to manufacturing partnerships with the Chinese and technology transfer. This has led to projects such as the Huajian shoe factory outside Addis Ababa. Huajian sent 86 Ethiopian graduates to China to be trained on how to make shoes. Now, actors on both sides are trying to replicate the successes of this Chinese factory in neighboring African countries. Also, Thousands of Kenyan students will be trained to operate the modern Chinese manufacturing machines in the mechanical field, electrical, lathe machining, rapid prototyping, computer numerical control as well as learn how to reproduce spare parts; this will drive the country's agenda of industrializing by 2030. The Made in Kenya and Study in China program aims to enlarge Kenya's portfolio of finished products that are manufactured locally and strengthen its balance of trade currently titled in favor of China. Without African intellectual capital, iron ore and cocoa excavated in Africa will continue to be manufactured in Europe and exported back to Africa at enormous cost. To alleviate poverty, Africa needs to cultivate creative and intellectual abilities that will allow it to increase the value of its raw materials and to break the continent's vicious cycle of poverty. Poverty is not an absence of money, rather, it results from an absence of knowledge. Currently, estimation shows that Africa spends $30 billion annually to import processed food from different regions. The removal of that import cost will make available capital to assist larger development needs that can train African students and facilitate the continent's industrialization.
Skilled graduates are crucial for Africa to move up the value chain and achieve critical productivity increase. There is room to learn from China through knowledge sharing, where more than 40 percent of all tertiary degrees are awarded in science, technology, engineering, and mathematics (the so-called "STEM" field). In contrast, the number of African university graduates' students in STEM field is closer to 22 percent. It could be argued that China's interest in Africa is timely. There is need to develop the high workforce needed to compete in the global knowledge-based economy. However, knowledge sharing in China-Africa cooperation can become a new way of boosting a mutually beneficial cooperation model, speed up Africa's industrialization and improve its independent development capacity, while bringing Chinese equipment, technologies, and products to African nations through industrial capacity cooperation. China and Africa should strengthen mutual learning by facilitating the people-to-people exchange between youths, women, think tank, media, universities, and other sectors. All this is meant to advance common progress and ensure the sustained growth of China-Africa friendship from generation to generation.
Ehizuelen Michael Mitchell Omoruyi is a researcher of Institute of African Studies at Zhejiang Normal University.