The challenge of regulating courier firms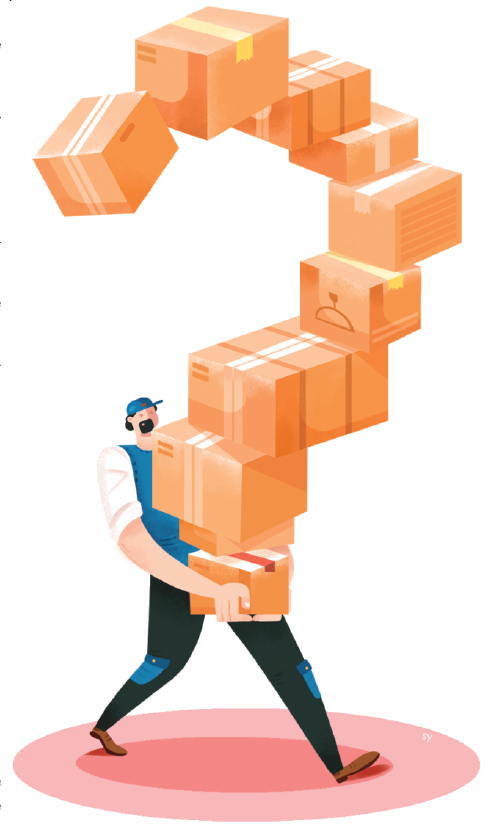 SHI YU/CHINA DAILY
Editor's note: China is the country of the largest express delivery service industry, with 100 million parcels delivered each day on average. But the fast expanding sector is also plagued by problems such as the stealing and selling of private information, unsustainable financing, and insufficient waste recycling. Four experts share their opinions with China Daily's Wu Zheyu on how to better regulate the courier service. Excerpts below:
Educate employees about rules

Qiu Baochang, director of the Consumers' Rights Protection Committee of the Beijing Lawyers Association
A new cyber-security law that takes effect from June 1 prohibits online service providers from inappropriately collecting and selling users' personal data. The move to strengthen customer privacy protection has sparked a public debate.
A 2016 report about the protection of people's personal information shows that about half of the 480 million e-commerce consumers had their private information leaked last year, with many suffering losses as a result.
To better protect the information provided on waybills, many courier service companies are increasingly rolling out "invisible waybills", according to Cainiao Global, the official global parcel tracking platform of Alibaba Group. These "invisible waybills" encrypt a recipient's name, address and phone number on a parcel, allowing only express delivery company employees to access the information through a specially designed app.
The obvious loophole in this system is that dispatchers and other company employees can still access the personal data of customers, and since some personal data theft is by courier company employees there is no guarantee that "invisible waybills" will prevent information leakages in the future.
I suggest a strict separation of access to information, that is, dispatchers should know only when and where to deliver a parcel, while all other details should require higher-level authority to decrypt.
It is also important that express delivery companies provide better legal education for their employees, with special focus on the Consumer Protection Act, which has four clauses stipulating that consumers' personal information should be protected. Moreover, the ninth amendment to the Criminal Law says anyone trading in personal information can be imprisoned for up to three years if a case is serious. Courier companies should make sure their employees are aware of the legal consequences of leaking consumers' personal data.
Firms eye IPOs in bid to boost industry

Bian Yongzu, a researcher at the Chongyang Institute for Financial Studies at Renmin University of China
For a long time, the Chinese express delivery service industry has expanded rapidly with companies paying their employees low wages. This is not financially sustainable because of the rising cost of living. It is high time the express delivery companies better financed themselves to ensure their sustainable long-term development.
But instead of accelerating their mergers and reorganizations, improving their value-added chain, and strengthening their cooperation with the railways, road transport sector, airlines and the manufacturing industry, the courier companies have been using initial public offerings to solve their management problems and try to boost the entire industry.
The courier companies should get professional help from investment banks, law and accounting firms on equity structure and financial management before launching their IPOs.
However, they should be aware that the era of rapid growth for the industry is past, because of the shrinking profit margin and increasing labor costs and the fierce competition within the sector.
From 2006 to 2015, the compound annual growth rate of the industry was about 40 percent. The turning point came in 2015 when portfolio and year-on-year growth both slowed down. In particular, the growth rate of income was much lower than that of portfolio, which means average unit price is declining.
For the long-term sustainability of the sector, there is likely to be a major consolidation within the industry through mergers and acquisitions. The companies that survive should know that price competition cannot be sustained without service quality being ensured.
In the initial stage of their development, almost all courier companies extended power to the franchisees to expand their business, which weakened their control capability, created inconsistency in the quality of employees, and gave rise to irrational, even whimsical, delivery charges.