Aircraft carrier a boost to shipbuilding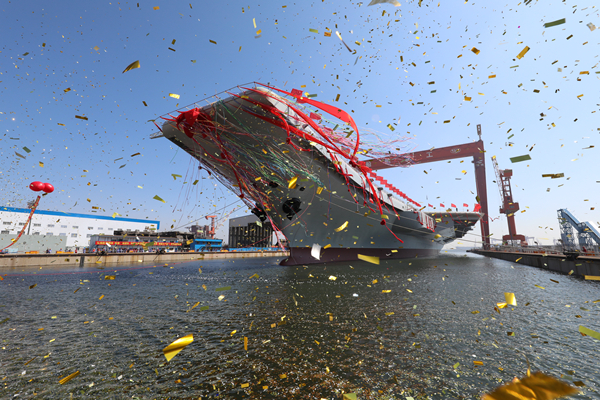 China officially launches its second - and the first domestically developed - aircraft carrier on April 26, 2017, in Dalian, Liaoning province. [Photo/Xinhua]
The launch of China's first domestically developed aircraft carrier is expected to boost the country's shipbuilding sector-especially military vessels, analysts said.
According to a research note from Guosen Securities, the market for the various military vessels which are in the aircraft carrier fleets could reach 100 billion yuan ($14.5 billion), while the maintenance and upgrade of the equipment would be a larger market.
"Our second aircraft carrier is designed, constructed and equipped independently," said Hu Wenming, chairman of China Shipbuilding Industry Corp, at the launching ceremony in Dalian, Liaoning province.
"It underscores that we have forged a team for building aircraft carriers," Hu added.
The company is China's biggest manufacturer of naval products. It is able to design and build different types of naval ships including submarines, missile destroyers and fleet support vessels.
One of its listed companies-China Shipbuilding Industry Co Ltd-published its annual report on April 26, revealing that its annual revenue reached 52.064 billion yuan in 2016 and total profit was 1.094 billion yuan, a big turnaround from the loss of 2.931 billion yuan for the year before.
The turn from loss into profit stands out given that the country's shipbuilding sector was influenced by the gloomy international shipping industry.
"In 2016, the integrated development of the military and civilian products has become an important impetus. All the major military tasks had been implemented smoothly according to the plan," the annual report indicated.
In addition to the aircraft carrier, the company also delivered several naval vessels, such as lightly-armed frigates and coast-guard ships. It said major breakthroughs were made in submarine military trade projects.
On April 21, China Shipbuilding & Offshore International Co Ltd, the trade arm of the CSIC, signed a contract with a Malaysian shipbuilding company, the company said on its website.
According to the contract, the CSOC will design and construct for the Royal Malaysian Navy four Littoral Mission Ships, primarily used for maritime patrol, coastal security and search and rescue operations.
It is Malaysia's first significant defense deal with the Chinese company.
It is assumed that China will construct more aircraft carriers following the official launch of the second one. Ministry of National Defense spokesman Yang Yujun said that the nation will form an overall plan for the development of carriers and key supporting infrastructures. But he did not reveal how many aircraft carriers China will construct at the ministry's regular news conference on April 27.