China's shipbuilding giant charts new course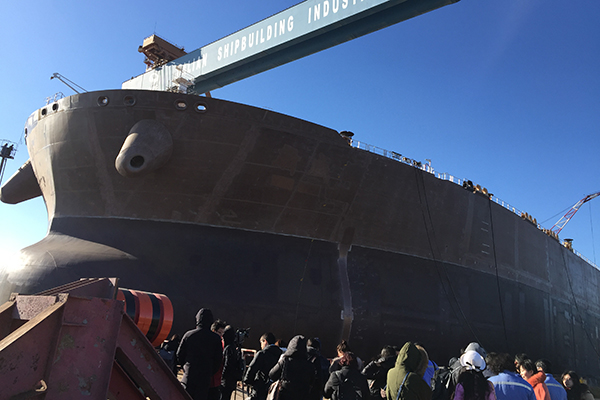 A cruise under construction at Dalian Shipbuilding Industry Company in Dalian, Northeast China's Liaoning province, Jan 13, 2016. [Photo by Dai Tian/chinadaily.com.cn]
Dalian Shipbuilding Industry Company (DSIC), one of the largest shipbuilding companies in the country, is charting a new course to overcome decline in global demand.
Based in Dalian in Northeast China's Liaoning province, the State-owned company is shifting its focus away from conventional shipbuilding to high-end vessels such as very-large crude and ore carriers and bulk carriers.
The shipping giant, which has 12,000 employees, recorded revenue of 23.4 billion yuan ($ 3.4 billion) in 2016 and net profit of 760 million.
DSIC's service spans the entire life cycle of a ship, including research and development, construction, repair and scraping. It's the only domestic equipment manufacturing enterprise that has expertise in all five industrial sectors: military project undertaking, shipbuilding, offshore equipment building, ship repair/ship scraping and heavy industrial project undertaking.
As the flagship of China's shipbuilding industry, DSIC has made great contribution to national defense and modernization of navy.
More than 800 naval ships of 44 types have been built in Dalian since the founding of the People's Republic of China, with DSIC building the greatest number of warships for the navy.
The company, which was formed in 2005 after a merger between Dalian Shipbuilding Industry Company and Dalian New Shipbuilding Industry Company, is part of China Shipbuilding Industry Corporation (CSIC), one of the two State-owned shipbuilding enterprises in the nation.
Currently, CSIC manufactures products not only for the maritime industry, but also designs and produces advanced large turnkey equipment and high-tech products for sectors ranging from energy to transportation to logistics.
It has established an industrial fund with an initial capital of 10 billion yuan to further invest in fields such as offshore engineering products, power, electronic information and intelligent equipment, and underwater defense, said an earlier report in China Daily.