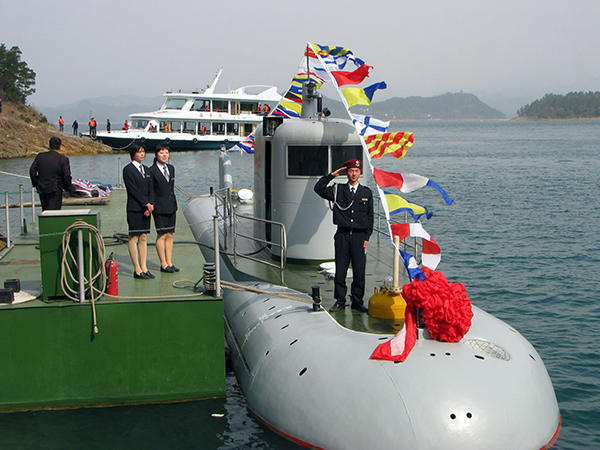 A crew member salutes to passengers on a sightseeing submarine made by the Wuchang Shipbuilding Industry Group Co in Hubei province. [Deng Jia/For China Daily]
State-owned China Shipbuilding Industry Corp or CSIC, the primary contractor for China's naval force, is transferring the assets of its subsidiary Qingdao Beihai Shipbuilding Heavy Industry Co to Wuchang Shipbuilding Industry Group Co, another of its subsidiaries, to enlarge the latter's capacity in building both military and commercial vessels.
The Hubei-based Wuchang Shipbuilding is one of China's manufacturing bases to build conventional submarines and frigates, as well as maritime defense equipment and law-enforcement vessels.
Subsequent to the asset transfer, it has restructured the management of Shandong-based Qingdao Beihai Shipbuilding, whose main business is ship maintenance and building bulk ships with an annual capacity of 3 million deadweight tons. It is also capable of repairing 212 vessels per year.
The CSIC's press office in Beijing told China Daily that Wuchang Shipbuilding specializes in building warships, law-enforcement vessels, offshore engineering ships and large-scale steel structures, but it needs to improve its ability in building large surface warships and long-distance commercial carriers.
"Even though Qingdao Beihai Shipbuilding has a strong ability in building large-scale bulk ships, it has a narrow product pipeline," said the CSIC press office. "The integration (of Qingdao and Wuchang) would have complementary advantages. The new shipyard would be capable of producing not only military ships, including the next-generation frigates and amphibious warfare ships, but a wide range of commercial ships such as chemical tankers, mega-container ships and wood-cargo vessels."
In 2015, Wuchang Shipbuilding pulled in 12 billion yuan ($1.83 billion) in sales revenue, while Qingdao Beihai Shipbuilding netted 4.05 billion yuan. With a total investment of 3.9 billion yuan, Wuchang Shipbuilding also operates a manufacturing facility to produce offshore engineering products in Qingdao.
Dong Liwan, a shipbuilding industry professor at Shanghai Maritime University, said Qingdao Beihai Shipbuilding's three large dock facilities in Qingdao can prove a solid foundation to support the merged company's maintenance support ability.
"Merger is an effective method of cutting surplus in oversupplied industries, said Dong. "So I'm not surprised to see more restructuring going on this year, as the government deploys more resources into State-owned enterprise reform," he said.
Sun Bo, CSIC's president, said the group is eyeing more market growth points as China embarks on supply-side reform with gusto.
It also wants to improve its ability in 10 areas, including power and underwater defense products, electronic information and intelligent equipment, and mechanical and electrical equipment to integrate its civilian and military businesses over the next five years.
The supply-side reform includes a series of policies to improve the manufacturing and agricultural sectors, public services, environmental protection, quality and scale of production and further opening up of Chinese markets for foreign investors.
With a workforce of about 150,000 employees, CSIC is one of the country's two major shipbuilding behemoths. It operates more than 50 industrial subsidiaries and 30 research institutes, including Dalian Shipbuilding Industry Co, Bohai Shipbuilding Heavy Industry Co and the China Ship Research and Development Academy. It has exported various types of vessels to more than 70 economies.
China State Shipbuilding Corp, the other State-owned shipbuilding giant, also has more than 50 subsidiaries and research institutes.