Actress' self-promotion improper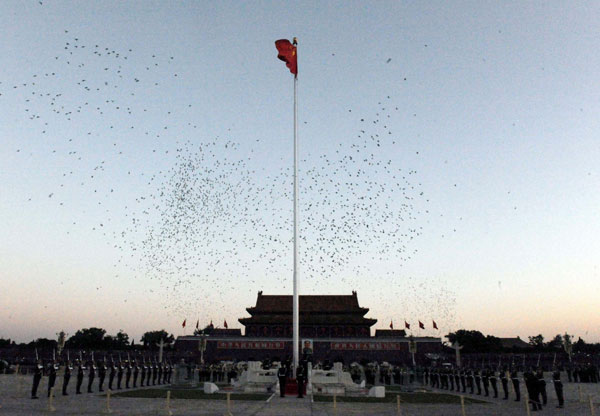 The Chinese national flag is raised at the Tian'anmen Square on Monday morning, China's National Day. [Photo/Xinhua]
A CHINESE ACTRESS attending the 70th Cannes Film Festival, which started on May 17, has received some fierce criticism at home for wearing a gown containing elements of China's national flag. Beijing Youth Daily commented on Tuesday:
The incident has triggered a mixed reaction, with some claiming wearing the dress is an illegal act and others that it promoted China's image to an international audience.
The actress' choice of dress, legally speaking, does not constitute the crime of insulting the national flag. China adopted laws covering its national flag in 1990, which explicitly forbid the commercial and advertising use of the national flag and its design. The so-called national flag dress she designed herself does draw inspiration from elements of China's national flag, such as the color and the five stars, but its design is essentially different.
The strange looking gown is not an apt display of Chinese culture, though. For a long time, qipao, the traditional Chinese dress for women, has been the choice of many Chinese actresses attending international film events. And the world has welcomed a properly tailored qipao as an emblem of Chinese women's elegance.
Unorthodox designs "inspired" by symbols of national significance, on the other hand, are hardly helpful in self-promotion, never mind promoting Chinese culture. The right thing to do is to try and improve on the elements of traditional Chinese dresses and present them in a less controversial, less offensive way than the actress did.
The attendance of the little-known actress who has no films to promote in Cannes is also questionable. She has the right to walk the red carpet as long as she was invited, but what she should be doing is promoting Chinese films, not putting on a bizarre looking dress in search of headlines. Even publicity-wise her dress seems to have backfired.
What makes good headlines during a global film festival is how many Chinese movies are competing for the top awards and why they are worthy of an award. Instead of trying to catch eyeballs in front of a global audience, those celebrities who have the chance to attend the Cannes Film Festival should do better to present China's film industry.