Companies do not need to be family affairs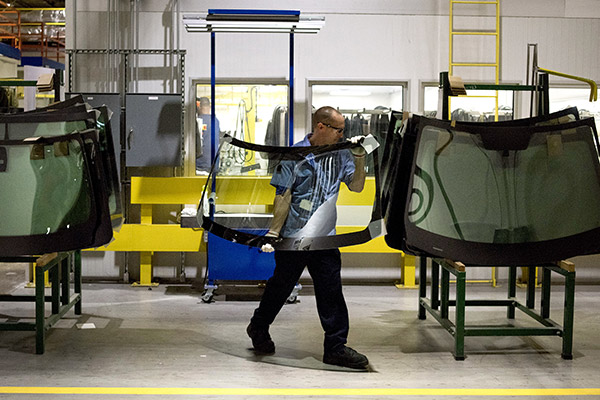 An employee carries a rear windshield at the Fuyao Glass America production facility in Moraine, Ohio. [Photo/Agencies]
CAO DEWANG, founder and chairman of Fuyao Glass Industry Group, said during a recent interview that he is making efforts to persuade his son to take over his job in the coming year, but the latter has shown little interest in running the leading manufacturer of automotive and industrial glass. Beijing News commented on Monday:
The 71-year-old Cao is not the only Chinese entrepreneur who is having difficulties finding a successor. It is estimated that over 3 million private enterprises in the country will be expecting a new CEO in the next five or 10 years, but many of them are likely to be run by professional managers, because the incumbent owners could fail to talk their children into taking over the baton.
Traditionally bricks-and-mortar business founders prefer to have someone from within their family to take over after they retire.
Yet not all of them can expect a resounding yes, even from their children, many of whom are more inclined to practice modern business theories nowadays, instead of inheriting low-value-added, labor-extensive companies.
The "second generation" of traditional entrepreneurs, for example, have a special keenness for exploring the virtual economy such as e-commerce and venture capital operations. Some of them simply do not want to take advantage of their parents' hard work and prefer to start their own business from scratch.
Their choice should be applauded. That some aging enterprise founders lament the absence of an apt successor, which they would even describe as a deadly blow to the future survival of their companies, actually highlights the need to promote professional management.
In other words, the position of the head of a company is not meant to be hereditary, and the introduction of professional managers and modern management rules is arguably the best option. The survival of a company does not hinge on bloodlines, but rather contracts.
In developed economies such as those in the Europe, professional managers have been hired to break the hereditary bloodlines in enterprise management. Chinese companies have all the reason to do the same.