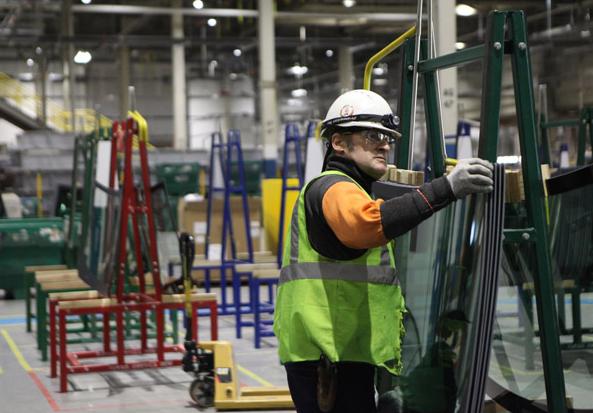 A worker inspects parts at Fuyao Glass America, the US branch of China's largest automotive glass maker. The company is working toward achieving full production capacity at its facility in Moraine, Ohio. HEZI JIANG / CHINA DAILY

Factory makes backlights, sidelights and windshields for leading auto brands
The 148,640-square-meter factory that used to be a dark and deserted space-except for a few raccoons-is now reborn.
Robots transport fabricated glass in a flowing rhythm, while men and women, many of whom were unemployed a year ago, work three fully up-and-operational production lines and installation stations.
Fuyao Glass America, the US branch of China's largest automotive glass maker, is working toward its goal for 2016 of achieving full production capacity at its first US manufacturing facility in Moraine, Ohio, and further sealing its corporate image as a global manufacturer.
It's been about 20 months since Fuyao took over the vacant plant abandoned years ago by General Motors Co. The factory now has 1,300 workers-about 700 full-time employees and 600 with part-time jobs that could turn into permanent ones with benefits after 90 days.
The plant will employ a total of 1,800 to 2,000 local workers by early next year, said John Gauthier, president of Fuyao Glass America.
Ohio Governor John Kasich, a Republican presidential candidate, has been highly supportive and very proud of the project. He met with Cao Dewang, chairman of Fuyao Glass Industry Group, many times to finalize the deal.
Apart from 120 Chinese workers from Fuyao's Chinese factories who are running the installation of Fuyao-designed equipment and new employee training, everyone was hired in the United States, mostly from the Dayton area.
Including Gauthier, four of Fuyao America's nine top executives are from the US.
Dealing with the US Environmental Protection Agency, Occupational Safety and Health Administration and labor-related issues are among the challenges Chinese manufacturers face.
Gauthier is a veteran of the glass industry for years. His last job was as plant manager of a glass manufacturing facility in Mt Zion, Illinois, which was acquired by Fuyao in 2014 to make prefabricated glass for the Ohio facility.
Not only does Fuyao America provide jobs, Cao said, the Americans welcome the new manufacturing plant because it fills a gap in the US auto parts market.
During the global financial crisis, many US auto-part makers shut down. As the auto market recovers, the fact that Fuyao America opened a new factory is great news for its US clients.
"Our American clients are thrilled," Cao said. "We now fulfill their orders faster, and they can communicate with us right away if any changes of the products have to be made."
The factory is now making windshields, backlights and sidelights for Chevy Silverado pickups, Hyundai Sonatas, BMW X5s, Ford F150 pickups, Jeep Grand Cherokees, Honda Civics and VW Passats, among others.
"I prepared for 20 years before opening this facility," said Cao.
Fuyao has had two offices and warehouses in Alabama and South Carolina since the 1990s. Eight years ago, it opened a bigger facility in Michigan to offer direct support to its clients in the Detroit area. That facility now employs close to 400 people.
In 2014, as Fuyao was growing bigger as a brand and Chinese labor costs kept going up, Cao decided the time had come.
"Raw materials we need are cheaper in the US, and having a plant will effectively reduce our transportation cost for orders from the US," Cao said.
He bought the Mt Zion factory and refurbished the Ohio plant, which is Fuyao's newest and most automated factory in the world.
Fuyao has factories in 15 Chinese provinces, employing 25,000 workers and a factory in Russia serving the European market.
Cao said that 60 percent of its revenue comes from the Chinese market and the rest comes from foreign markets, with North America and Europe the largest buyers.