Border tax self-defeating dilemma for US
The recent proposal of US House Republicans to impose a controversial border tax on imports will not only deal a blow to global trade rules and hurt the interests of the United States' trading partners, but also cost American consumers dearly and diminish Washington's global influence.
Although there are some good intentions behind the bill, such as raising the competitiveness of US products and fostering favorable conditions for the domestic manufacturing industry, it cannot meet the goal without paying a very high price.
The proposed border tax plan has shocked the European Union and other US allies, and could prompt the biggest dispute in the World Trade Organization, because it goes against the basic economic principles and established world trade rules.
A radical hike in import tax would increase the burden on American consumers, retailers and other businesses, as well as overseas trade partners of the US. Besides, the unilateral disruption of the global trade balance is likely to evoke countermeasures from other countries, even a chain reaction across the global trade landscape, leading, in the worst-case scenario, to a trade war that would cause losses on all sides.
China, however, is unlikely to be the hardest hit by the US border tax as its biggest trading partner is the EU, not the US, and its economy is undergoing upgrading toward higher-end production and greater reliance on domestic consumption. But since China is the biggest trading partner and the third-largest export destination of the US, the border tax bill will do more harm than good to the US. In the past eight years, for instance, US imports to China have witnessed an increase of 66.4 percent, according to official statistics.
On the one hand, American consumers will be forced to tighten their belts on surging import prices without reliable alternative products, which will further lower their living standards even as they try to overcome the impacts of the 2008 global financial crisis. On the other hand, the border tax could compel Washington's top trade partners to turn away from the US and rely more on each other for favorable free trade arrangements, which would offset any competitive edge that US exporters would gain by the tax plan.
Washington could even foresee an undesired decrease in its global influence as a result of weakened trade relations with major countries around the world.
The strong opposition and warning of retaliation from the EU, whose largest trading partner is the US, is a reminder to the Donald Trump administration that its protectionist tendency could be a friendship killer.
The author is a writer with Xinhua News Agency.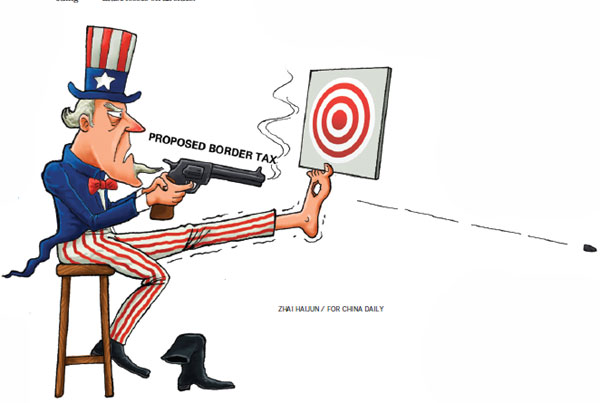 (China Daily 02/18/2017 page5)