China's role in building an open world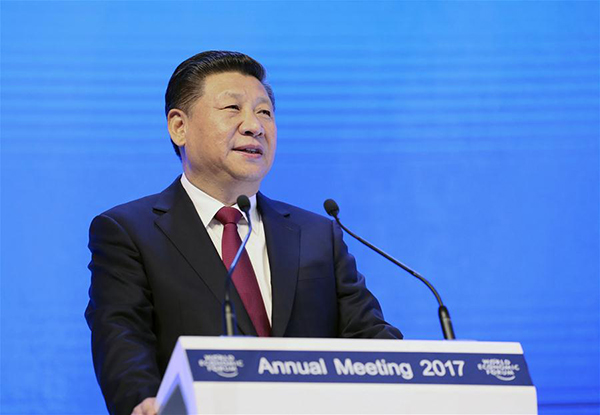 Chinese President Xi Jinping delivers a keynote speech at the opening plenary of the 2017 annual meeting of the World Economic Forum in Davos, Switzerland, Jan. 17, 2017. [Photo/Xinhua]
What can the world expect from China amid the increasing uncertainties facing globalization?
In sharp contrast to US President Donald Trump's inaugural speech on Jan 20, which centered on the United States and trumpeted protectionism, President Xi Jinping's speech at the World Economic Forum in Davos in January focused on the world and advocated globalization.
Encouraged by the election of Trump who advocates anti-globalization and pro-protectionism, as US president, right-wing forces and populist leaders are trying to consolidate their political positions in several European countries and thus pose a threat to globalization, global governance and multilateral cooperation.
By pursuing protectionism, populism and unilateralism, Trump has created uncertainties for the international community and global trade. And facing a Trump-led US that is hell-bent on shirking its responsibilities as the world's sole superpower, the international community is increasingly looking to China for guidance and leadership.
Speaking in Davos, Xi emphasized that China has greatly benefited from globalization. But, he said, China has also made huge contributions to global trade and governance, and its economic development has created immense opportunities for the world. For instance, China's fast-growing economy has been a principal driver of global growth, and the interactive development it pursues with other countries has promoted a balanced global economy.
Besides, by alleviating poverty on an unprecedented scale, China has contributed to inclusive global growth and its continued efforts to deepen reform and opening-up have played a big role in building an open world economy.
Many may see Xi's remarks in Davos as a revelation of China's ambition to become the most powerful country in the world. But the fact is, the remarks reflect China's efforts to follow the trends of the times and resist the adverse currents, in order to forge a peaceful and prosperous global environment.
China does not have any intention of leading the world by itself. On the contrary, it seeks to work with other countries to make the world a better place. Despite its notable economic and social progress, China is still a developing country and it should not shoulder global responsibilities beyond its capability.
That China has taken some initiatives to fulfill its international responsibilities does not mean it will abandon its policy of "keeping a low profile"; it means China is making more active efforts to maintain its global presence commensurate with its national strength.
Amid the "rise" of the East and "fall" of the West and increasing uncertainties facing globalization, China will continue following its decades-long policy of not aspiring to be a world leader.
However, it should try to strike a strategic balance vis-a-vis the global situation. To begin with, China should try to strike a balance between domestic and foreign strategic tasks, according priority to deepening reforms at home and promoting equity and justice globally. It also needs to strike a balance between the pursuit of growth and maintaining domestic stability. These two are equally important tasks in these times of chaotic global situations.
To promote globalization and better global governance, China should also try to strike a balance between its responsibilities and rights; it should not only fulfill its responsibilities as a big developing country but also continue to make efforts to have a bigger say in international institutions.
Moreover, keeping a low profile does not mean China should always remain passive. It has to strongly respond to false charges and react against provocative moves by other countries.
China should also maintain a balance between struggle and cooperation. To offset the threat posed by the anti-globalization moves and hegemonic behaviors of the Trump administration, China needs to strengthen crisis management and launch targeted countermeasures. And it should make efforts to deepen cooperation with the European Union and other BRICS countries, in a bid to increase the number of friendly countries that will help boost globalization and promote better global governance.
The author is a senior researcher in world politics at the China Institutes of Contemporary International Relations.