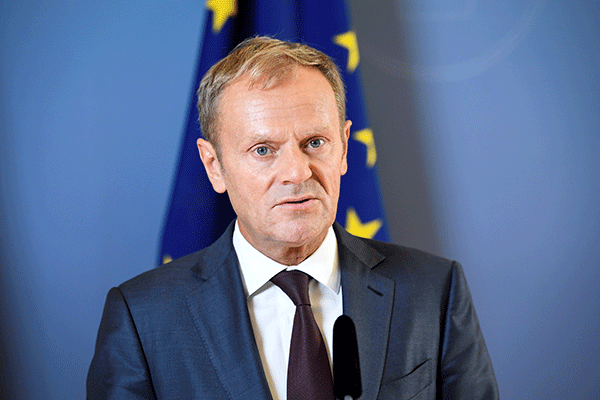 President of the European Council Donald Tusk looks on during a joint news conference at the government headquarters Rosenbad in Stockholm, Sweden, September 9, 2016. [Photo/Agencies]
Following the lead of new US president, Donald Trump, who has used aggressive rhetoric against China since the start of his presidential campaign, Donald Tusk, president of the European Council, has begun to play this dangerously misleading game too.
In recent days, Tusk, whose institution is responsible for the 28-member bloc's political direction, has been eager to spread alarm among Europeans by claiming that the United States, Russia and China all represent a "danger and threat" to the European Union. His chief worry over China is that the nation has been "increasingly assertive, especially at sea".
Tusk has been repeatedly spreading this message to European leaders.
Although he has not elaborated in what way China being assertive is harmful, he claims it is among the external dangers and threats the EU faces. Interestingly, a careful reading of his letter to EU leaders ahead of Friday's gathering in Malta shows that he is also urging Europeans to become "assertive" and fight against the disintegration of the EU.
Being assertive is not a bad thing, especially at critical times when the world is confronted with various crises. In fact, we are in extreme need of confident global leadership at this time.
China's actions at sea are designed to protect its maritime sovereignty, which has been affected by the increasing intervention in the region by the United States in recent years.
Another purpose is to deepen regional cooperation, facilitate trade flows and generate more jobs by increasing port investment. One example that Tusk might reflect on is Piraeus port in Greece. An EU rescue plan, coupled with China's growing investment, has helped bail the Mediterranean country out of crisis.
Also, labeling China as a threat and danger-possibly the first time a European leader has used such language-does not reflect the realities of bilateral relations between China and EU members.
In addition to the strategic partnership signed between China and the EU, China has entered into even closer relationships with most of the EU member states, including Germany, France, and Belgium, among others. Many have become founding members of the China-led Asian Infrastructure Investment Bank.
In 2016, China surpassed the United States to become Germany's top trading partner, according to the Association of German Chambers of Commerce and Industry.
With China's massive plans to attract investment and expand its overseas business, more of these pragmatic forward-looking policies are bound to take hold in the coming years among EU member states if the bloc adopts an open-door policy.
In dealing with China, Tusk must listen to the opinions of the EU member countries and reflect their will. It is dangerous and misleading that while member countries are celebrating cooperation with China, the EU leadership is taking a less welcoming view.
The EU is truly at a critical moment. Its southern and eastern periphery is in chaos, the new US administration is headstrong, and the United Kingdom is going to part ways and play a vastly different global role. But as Europe celebrates the 60th anniversary of Treaty of Rome, European leaders must not forget that European integration and China's reform and opening-up have been two of the major memorable developments over the past few decades.
So when Tusk is shaping the political stance of the EU at this precarious moment, he must not only endeavor to save the transatlantic bond, but also recognize what are the real positive forces that will deepen regional integration and global peace.
Embracing these forces would be the right approach to tackling the real threats facing the EU.
The author is deputy chief of China Daily European Bureau. fujing@chinadaily.com.cn