Reducing housing prices proves to be tricky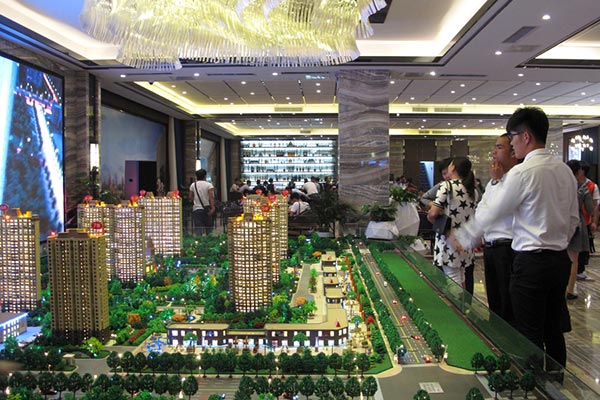 Models of residential buildings are seen at a sales center in Zhengzhou, Henan province, September 23, 2016.[Photo/VCG]
China started increasing real interest rates by raising the rates of standing lending facility, a liquidity support tool, last week, a move that many say will deal a potentially heavy blow to the real estate market.
So will housing prices come down?
Analysts agree that if the overall monetary stance continues to be tightened, it will mark a real turning point in the country's monetary environment, leading to rising mortgage rates for homebuyers and causing the real estate market to really cool down.
Indeed, the tightening measures adopted by several municipal governments in October and the signal sent out by the Central Economic Work Conference late last year that "houses are built to be inhabited, not for speculation" have made those who want to settle down in the cities hopeful that property prices would become more affordable. However, the history of China's commercial housing market since the late 1990s tells us that it is difficult to bring down housing prices, especially at a time when many people have no choice but to flock to the real estate market to find a haven for their money.
Four months after the tightening measures were adopted in October, many media reports say that housing prices have dropped-even sharply in some cities. And official data show that prices have really come down in most major Chinese cities, suggesting the price control measures have taken effect. Some major cities, such as Beijing, Shanghai, Guangzhou and Shenzhen, saw a month-on-month drop in new commercial housing prices in December. In Beijing, prices of new commercial housing dropped by 0.1 percent month-on-month in December, the first fall since March 2015.
But a closer look at the market will lead us to a different conclusion.
Many people have complained through social media and micro blogging platforms that in reality housing prices have continued to rise-in some parts of the cities, they have risen sharply in recent months. The local real estate management authorities are yet to respond to such online complaints and questioning. But if you use the websites of major real estate agents, such as lianjia.com, to check out housing transaction prices, you will see that housing prices in many parts of Beijing have risen significantly compared with those in September.
The public is still searching for the reasons for such an information gap. But policymakers could have been misled by the official data on housing prices and reached the wrong conclusion that their tightening policies have been effective. If that has happened, policymakers could misjudge the situation and stop taking new tightening measures, which will create more price bubbles and give rise to more serious risks in the sector that may ultimately affect the country's overall economic and financial stability.
Admittedly, a brisk real estate market is crucial to China's efforts aimed at stabilizing its GDP growth, especially at a time when its other major drivers of growth seem to have lost steam. But housing prices in the major cities, by any standards, have become too high for ordinary buyers to afford. If policymakers fail to grasp the real situation and implement truly targeted and effective policies to combat rising prices, then the entrenched market expectations will further inflate the housing price bubbles and create serious troubles for the property sector, and the Chinese economy as a whole.
Such a price would be dearer than the loss of its contribution to GDP growth.
The author is a senior writer with China Daily.
xinzhiming@chinadaily.com.cn