To be hoped more positive message from Mattis persists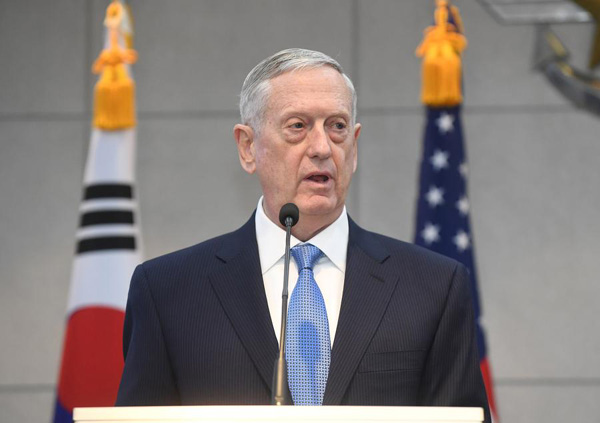 US Defense Secretary Jim Mattis speaks before meeting with South Korean Defense Minister Han Min-Koo at the headquarters of the Defense Ministry in Seoul, South Korea, February 3, 2017. [Photo/Agencies]
In Seoul, he defended the United States' commitment to deploying the Terminal High-Altitude Area Defense system in the Republic of Korea.
In Tokyo, he restated that the US-Japan security treaty applies to the Diaoyu Islands.
Almost equally provocative, he blamed China for shredding the trust between nations in the region by attempting to dictate the "diplomatic and security and economic conditions of neighboring states".
Which, not surprisingly, prompted immediate protests from Beijing.
But, despite the diplomatic feathers he ruffled during his trip, US Defense Secretary Jim Mattis' maiden visit to Asia has also prompted sighs of relief. For, at the very least, it dispersed the clouds of war that many feared were gathering over the South China Sea.
If the new US president's precedent-breaking call with Taiwan leader Tsai Ing-wen and his claim of readiness to reconsider the "one China" principle were broadly interpreted as signs that the new administration wanted to reset China-US relations, Rex Tillerson's proposal to deny China access to its own islands in the South China Sea, and more recent remarks by administration officials about "defending international waters" and possible military conflict with China, only lent additional credibility to speculation about an upcoming showdown between the two countries, sparked by US actions with regard to Taiwan or the South China Sea.
Although Beijing has appeared patient and restrained, and so far consigned the task of responding to its diplomats, it would be impossible for those wielding the ultimate decision-making power not to be affected by Trump's vow to get tough and domestic calls for Beijing to reciprocate.
Mattis' Saturday statement on the South China Sea, therefore, offered them a "mind-soothing pill".
By clarifying Washington does "not see any need for dramatic military moves at all," defining the issue as "something that's best solved by the diplomats", and highlighting the Trump administration's willingness to maintain "open lines of communication", Mattis has inspired optimism here that things may not be as bad as previously portrayed.
By and large, Trump's China policy as seen from Mattis' words is hence being read as "basically in conformity with that of Obama's". Trump's demonstrated enthusiasm for erasing his predecessor's legacies notwithstanding, the no-nonsense style Mattis debuted thus far did provide the dose of predictability the bilateral relationship badly needs.
Yet it is too early for Chinese decision-makers to sit back and relax, because this may not remain the case as Trump has already shown he is no fan of predictability.