Manufacturing sector's road to success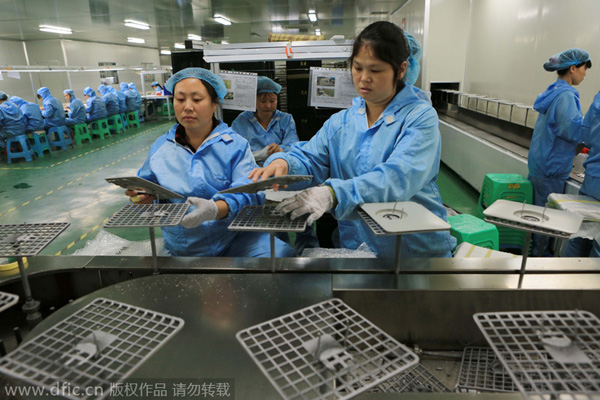 Employees process laptop components at an industrial park in Chongqing, Southwest China, April 22, 2014. [Photo/IC]
China is the most competitive manufacturing power in 2016, according to Deloitte research.
China's manufacturing output accounted for 22 percent of the world total in 2015, making it the world's top manufacturing country for six consecutive years.
But China's manufacturing sector lacks international competitiveness due to unsatisfactory progress on the innovation front. China ranks 13th among the 15 countries that are accumulatively responsible for 70 percent of the world's overall manufacturing output; it lags far behind developed countries such as Japan and the United States. The value-added rate of China's manufacturing sector is estimated to be 21.5 percent, while it is more than 35 percent in developed countries.
Since the global financial crisis China's manufacturing sector has been facing great pressure and challenges because of Western developed countries' strategy to revitalize their manufacturing industries and the shifting of manufacturing units to Southeast Asian economies owing to the increasing labor cost in the country. China's manufacturing sector has been gradually losing the advantages it had enjoyed, and it is yet to gain new advantages based on innovation and technological advancement, or a new business model. So, in its competition with both developed countries and developing countries, China has to urgently find its new competitive edge.
US president-elect Donald Trump will take office on Jan 20. And given his much publicized "America first" slogan, the United States is likely to implement policies to support the domestic manufacturing industry. Besides, the US Federal Reserve's interest rate hike, and its hint at raising it further, will also make investing in US manufacturing industries more attractive for investors.
Therefore, it is likely that middle- and high-end manufacturing in the US will develop faster this year and that some American manufacturing enterprises will move back to the US.
On the other hand, the cost of China's manufacturing sector is expected to increase further because of the rise in production cost and environmental cost. In fact, the cost of manufacturing in China will be much higher than that in Southeast Asian countries.
How to achieve a breakthrough under such circumstances is the urgent task of China's manufacturing enterprises. And the only choice they have is to transform and upgrade their manufacturing models.
They should start by promoting technological innovation for upgrading to the middle- and high-end of the value and industrial chains. Second, they have to promote deeper integration between the manufacturing sector and the internet, in order to successfully "overtake on a corner".
Since technology is the basis of a strong manufacturing industry, China's manufacturing sector should follow the path of innovation-driven development, increase spending on research and development and achieve breakthroughs in key technological fields.
In 2016, the top 500 Chinese manufacturing enterprises' R&D intensity-a company's expenditure on R&D divided by its sales revenue-was only 2.02 percent, less than half of the desirable 5 percent.
The significance of investing in R&D is evident in the success of Huawei smartphones. In 2016, the company's R&D intensity was 12 percent; it invested more than 60 billion yuan ($8.66 billion) in R&D, the eight-highest among all global companies. In terms of patent applications, Huawei topped the list of multinational enterprises.
The internet is also vital to China's manufacturing sector "overtaking on a corner", because it can play a key role in improving the sector's efficiency and help it gain new advantages. The strategies of Made in China 2025 and Internet Plus will completely change China's manufacturing sector, by promoting intelligent manufacturing and intelligent enterprises, and integrating the internet and the manufacturing sector.
Intelligent manufacturing will help optimize enterprises' resource distribution and greatly improve their efficiency. And a new business model based on the integration of the internet and the manufacturing sector will create new advantages for the sector, and help it achieve more success in international competitions.
The author is a researcher at Chinese Enterprise Confederation.