Shenyang's Sino-German park: Hub of intelligent manufacturing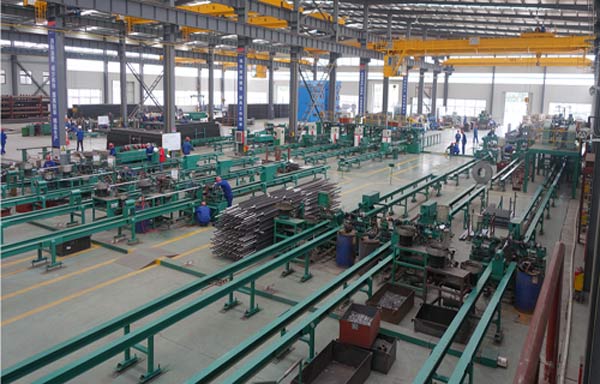 A view of the workshop of a Shenyang-based business. [Photo/Xinhua]
If there's one place that has wholeheartedly embraced "Made in China 2025" and Germany's "Industry 4.0", it is Sino-German (Shenyang) Intelligent Equipment Manufacturing Park in Shenyang, the capital of Northeast China's Liaoning province.
Spread over 48 square kilometers in Shenyang Economic and Technology Development Zone in the city's Tiexi district, the park boasts a who's who of global giants, including BMW, Siemens and BASF.
The project, which was approved by the State Council in 2015, is at the forefront of attracting multinationals, utilizing global expertise, creating new growth points and giving new life to the old industrial base in the Northeast.
Shenyang was for decades the manufacturing powerhouse of the country. But as China opened up its economy and foreign players began entering the market, the heavy industries struggled to keep pace with the changes.
The local government knew it had to upgrade the system if it wanted to reclaim the lost ground, boost economic growth and improve people's living standard.
So, with the help of the central government, Shenyang authorities launched big plans. The Sino-German park is one of them.
It merges advanced German technologies with the production strength of Shenyang to create a hub for innovation and manufacturing industry, with BMW as its crown jewel. The auto giant has established its most technologically advanced vehicle plant in the world in the park and also its only research and development center outside Germany.
But the park is just one aspect of the city's ambitious programs. Shenyang Economic and Technological Development Zone, where the Sino-German park is located, is over a total area of 488 square kilometers and has a population of over a million.
More than 3,000 companies, including 100 multinationals, have set up their base there since the central government gave its approval to the plan in 1993.
According to the provincial authority, the park will focus on intelligent manufacturing, advanced machinery manufacturing and strategic emerging sectors.
Apart from the government's support, another factor that has benefitted the Shenyang development area is its location in Tiexi district. The district has a long and illustrious association with manufacturing.
In 1905, it created a new milestone by founding the first processing company to use modern machinery. By the end of 1970s, Tiexi was creating products in 30 out of total 31 categories in the nation.
Shenyang-based auto company Jinbei was the first Chinese company to list on the New York Stock Exchange.
Although problems such as attracting and retaining right talent remain, given the focus and determination of both the central and provincial government, the outlook for the park in particular and Shenyang in general looks bright and sunny.