Mastering English still an uphill struggle
Richard Bourne (UK)
Chinese culture revolves around the written word, not the spoken word. Literacy is taken very seriously. Many Chinese take this element to second languages they learn, able to read or write well but with poor listening and speaking skills.
China is a large and rich culture; with so much going on inside China, the populace is somewhat insular compared to many others. Learning additional languages has not been historically common.
Opportunity to practice. Most Chinese have very limited opportunities to speak to an English speaker, even a non-native one. Their country is vast and somewhat isolated. Historically they did not travel; now when they do, they travel on whirlwind group tours taking in a dozen sites/cities in a week.
Face: Chinese fear embarrassment. (Everyone does but perhaps more than non-Asian cultures) Learning to speak a new language almost requires you to go out and embarrass yourself on a regular basis.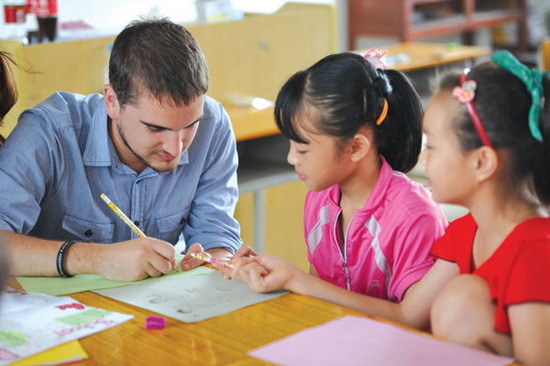 Sean McNally from Britain teaches Chinese children how to learn English through paintings. Many students in China have trouble learning English and using it in their daily lives. [Photo/China Daily]