The watchdogs' watchdog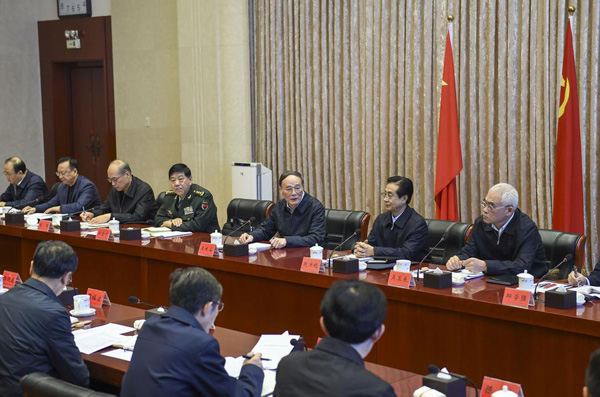 The Standing Committee of the Central Commission for Discipline Inspection (CCDI) of the CPC on Nov 1, 2016, convened a meeting to study and implement the spirit of the sixth plenary session of the 18th CPC Central Committee. [Photo/Xinhua]
In a recent investigative tour of East China's Jiangsu province, Wang Qishan, head of the Party's top anti-graft watchdog, stressed that to advance stricter self-governance of the Party, its discipline inspection departments at various levels should make themselves an example by putting their power in an institutional cage.
Such a move is necessary, given that many people have been wondering who are the watchdogs keeping an eye on the watchdogs. Some corruption cases involving discipline inspection officials in the past demonstrate that not all disciplinary officials are immune to the lure of illicit gains.
Due to the power they wield, people usually do not dare to offend or criticize them, which possibly emboldens some of them to disregard the Party discipline and laws that they are supposed to be upholding.
For example, after being investigated in 2004, Peng Jinyong, then chief of the anti-graft watchdog in Changde, Hunan province, admitted that as a top local discipline inspection official no one dared to raise objections to him in his daily work, which encouraged him to violate Party rules and the law.
Without effective constraints, the power to supervise in the hands of discipline inspection officials may be abused like power in the hands of any other officials. This has been repeatedly proved by a series of anti-graft cases that have brought down other high-ranking discipline inspection officials.
That a large number of discipline inspection officials have been punished since 2012 reflects the Party's resolve to firmly promote self-supervision and self-correction.
But self-supervision alone is not enough for clean governance. The Party's vast discipline inspection system should also increase the transparency of its work, remove its mysterious veil, and voluntarily bring its work under the supervision of the public.
--People's Daily