CPC discipline watchdog vows efforts on strict Party governance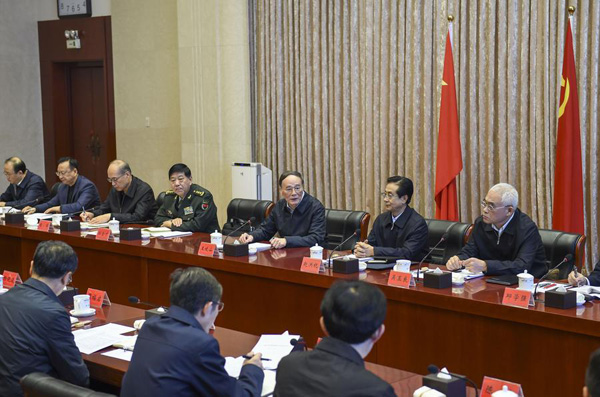 The Standing Committee of the Central Commission for Discipline Inspection (CCDI) of the CPC on Nov 1, 2016, convened a meeting to study and implement the spirit of the sixth plenary session of the 18th CPC Central Committee. [Photo/Xinhua]
BEIJING - Discipline watchdog of the Communist Party of China (CPC) on Tuesday pledged intensive efforts on strict governance of the Party.
The Standing Committee of the Central Commission for Discipline Inspection (CCDI) of the CPC on Tuesday convened a meeting to study and implement the spirit of the sixth plenary session of the 18th CPC Central Committee held last week.
Two documents on the discipline of the Party were approved at the session, namely the norms of political life within the Party under the new situation and a regulation on intra-Party supervision.
Presided over by Wang Qishan, secretary of the CCDI, the meeting urged the CCDI to take a leading role in implementing the two documents, and better address problems existing in Party governance, according to a statement released after the meeting.
The discipline inspection organs must strengthen self-building and self-restriction, avoiding violations within themselves, the statement stressed.
The meeting called on discipline watchdogs at all levels to enhance supervision on the implementation of the spirit of the key CPC meeting, and uphold the CPC Central Committee's authority, said the statement.
The discipline watchdogs should be aware of their responsibilities in promoting strict governance of the Party, and improve the supervision and accountability mechanisms, according to the statement.