The most accurate clock in the universe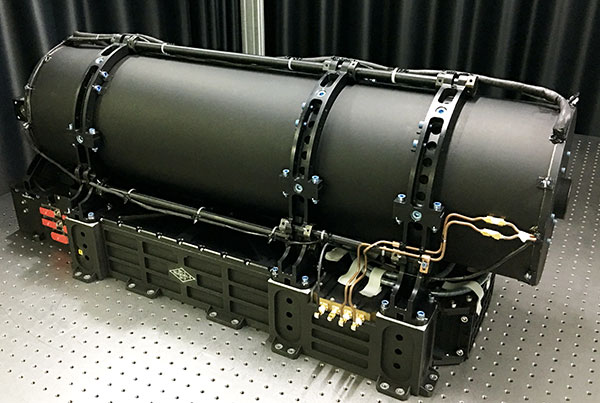 The "cold-atom" clock was developed by the Key Laboratory of Quantum Optics at the Shanghai Institute of Optics and Fine Mechanics with the Chinese Academy of Sciences.Liu Liang / For China Daily
A Chinese-made timepiece designed to be precise forever is currently floating above the Earth aboard the Tiangong II space lab. Yang Chunxue and Yu Fei report for China Features at Xinhua News Agency.
While stargazers are focused on the two Chinese astronauts aboard the space lab Tiangong II, scientist Liu Liang is watching the time.
More specifically, he is watching the time on a "cold-atom" clock that he and his team have spent 10 years perfecting.
The cylindrical black object bears no resemblance to an ordinary clock, but it's one of the most advanced timepieces ever made. It will remain in standby mode for the duration of the astronauts' visit.
"It is probably hidden behind some curtains in the space lab," said Liu, professor and director of the Key Laboratory of Quantum Optics at the Shanghai Institute of Optics and Fine Mechanics with the Chinese Academy of Sciences.
The clock blasted off with Tiangong II in September, becoming the first cold-atom timepiece in space. "It is so accurate that it should not lose one second in 30 to 300 million years in space," Liu said.
For the past 10 years, Liu has devoted most of his time to developing the clock. He even spent Spring Festival, China's most important public holiday, in his laboratory. "I had no time to waste," he said.
Liu should be an expert on time, but instead he finds it almost incomprehensible. "We often talk about it - we ask 'What time is it?', but no one knows what time really is," he said. "Instead of researching the essence of time, we have endeavored to measure time by making this cold-atom clock."
He hopes science will eventually unveil the mysteries of time and space. "When did time begin? Does space have an identifiable origin? Is there any structure to time and space?" he said, listing the questions in his mind.