Message on a bottle: Mineral water company launches drive to find missing children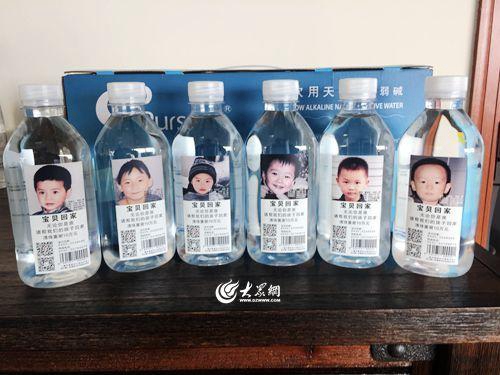 File photo of these special bottled water. [Photo from web]
A company in Qingdao, Shandong province has launched a limited-edition bottled water design whose packaging contains information about missing children.
The company hopes that such advertisements will raise public awareness of human trafficking in China, and also help the missing children to return home.
The campaign, which is being jointly launched by the water company and Baobeihuijia.com, China's best-known online platform for finding missing children, is outfitting water bottles with the photos and personal information of six missing children.
The youngest child among the six went missing in 2012 and would be 8 years old by now. The oldest disappeared in 2003 and should be 18.
Citizens can provide any information about the missing children via a hotline.
"The parents of the missing children authorized us to post their information on our products in July. So far we have produced 500,000 bottles, most of which are being sold in local supermarkets, airports and train stations. The first batch of water bottles ... will remain on the market for a year, while the information of more missing children will be printed on our products in the future," a manager surnamed Wang told Dzwww.com, a local news portal.
No useful information has been reported so far, according to Wang.
Non-governmental organizations have been playing an important role in tackling human trafficking in China.
Baobeihuijia.com has helped 1,704 children find their parents, while 31,125 families have registered on the website to search for missing children as of press time.
Due to a traditional preference for male heirs, particularly in rural areas, a rampant black market for children has thrived for years in China.
Some families who are unable to have biological children are willing to pay large sums of money to buy a child.
Accurate statistics of the country's missing children are difficult to obtain, though the head of the Ministry of Public Security's anti-child trafficking department has denied the figure of 200,000 children going missing each year. That number was reported in 2013 by Cnr.cn.