Latin America greets China opportunity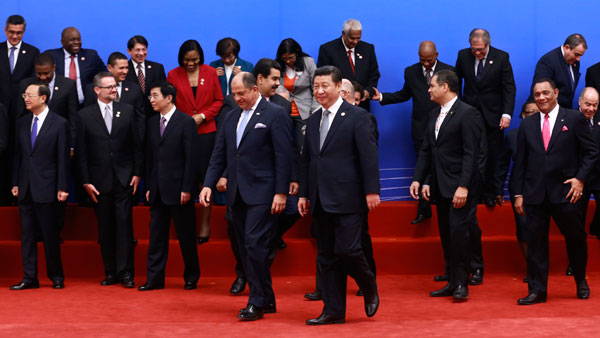 President Xi Jinping and guests attend a photo session during the opening ceremony of the first Ministerial Meeting between China and the Community of Latin American and Caribbean States. FENG YONGBIN / CHINA DAILY
President Xi Jinping has embarked on his Latin American tour. His trip included stops in Peru, Ecuador and Chile, three countries that have a long history of ties with China. This is his third trip to the region in three years, a sign of Latin America's strategic importance to China.
"Just as distance tests a horse's strength, time will show a person's sincerity." With this Chinese saying, Xi expressed his views about the future of Sino-Latin relations. China's commitment to the region is here to stay, and bilateral ties will continue to get stronger.
Three points are key to determining the degree of success of bilateral relations in the short and mid-term.
1. Infrastructure, infrastructure, infrastructure
Every leader in the region knows that without a boost in infrastructure investment, Latin America will not be able to continue on its development path. As a Latin American living in China, I witness on a daily basis China's unrivaled skills in building and developing infrastructure.
However, for cooperation in infrastructure development to succeed, first, the local unions need to be ready to accept Chinese workers at construction sites. Although there is a sacrifice to be had in terms of local jobs, there are greater long-term benefits for the whole society. Second, Latin American leaders need to try harder to keep and fully execute their legal commitments and avoid situations like the one in Mexico, where a contract first awarded to China railway to build a high-speed railway was later canceled.
2. What can Peru, Ecuador and Chile expect?
Latin America is a very heterogeneous region. Just as Roberto Mangabeira Unger, the renowned Brazilian professor, said, there is no such thing as "Latin America" - a concept created by US scholars.
Chile and Peru probably are the countries that have benefited the most from China's rise.
Chile has some of the smartest trade and investment specialists in the world and its private sector is now getting involved in sophisticated deals with Chinese companies. If the country's relation with China continues to move in that direction, Chile will become a model for other countries in the region on how to do business with China.
Peru's diplomats are doing an extraordinary job. This is the second time President Kuczynski will meet Xi Jinping in less than six months. This visit gives Peru a unique chance to set a start date for the construction of infrastructure projects currently under negotiation.
Ecuadorian President Rafael Correa has said that this is "the most important visit by a foreign leader ever". Of great importance is how the Andean nations capitalize on this visit and share its fruits with other countries in the region, taking advantage of platforms like CELAC.
3. For Latin American SMEs, China is the way to go
More and more Latin American SMEs are realizing that, for companies of their size, China is usually the road less traveled, but, sooner than later, the China road will take them to a more prosperous land.
However, in order to take advantage of the China opportunity, they will need to invest time in designing their own China strategies. Take the case of the opportunities offered by platforms such as Connect Americas of the Inter-American Development Bank (IDB), a project launched with Chinese government support. On this platform, Latin American companies can even find purchase requests from Alibaba. This shows that the Chinese government made the right decision when it joined the IDB back in 2008, as this created more opportunities for entrepreneurs of both regions to engage with one another.
Last, Latin American countries need to do a better job when it comes to brand building in China. With the exception of the Chilean wine brand Concha y Toro and, to some extent, the Mexican brand Bimbo, Latin American brands have not been able to create strong bonds with Chinese consumers.
The author is an entrepreneur from Uruguay and the former head of the international department of the Foshan Bureau of Commerce.