World Internet Conference shows global efforts to benefit people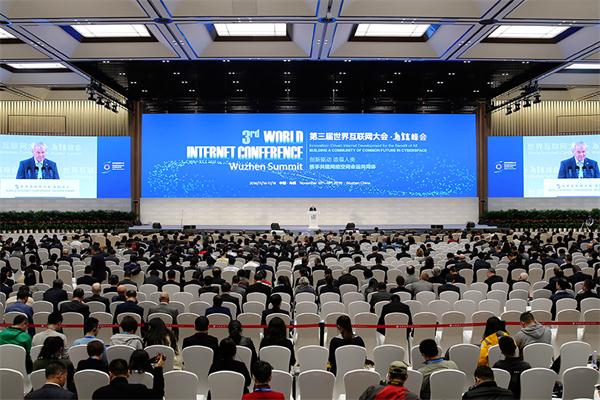 Former Australian prime minister Bob Hawke gives a speech at the ongoing third World Internet Conference in Wuzhen, Zhejiang province. [Photo/China Daily]
It is a well-known fact that the internet has entered every aspect of our life. Furthermore, most experts consider it to be the backbone of any successful economy. Consequently, it has acquired tremendous influence upon the flow of goods, information and services throughout the world.
The theme for the 3rd World Internet Conference "Innovation-Driven Internet Development for the Benefit of All—Building a Community of Common Future in Cyberspace" reflects the common goal of the human race for securing a bright future for all regardless of race, gender, political or economic background.
The conference has attracted the most influential experts worldwide, including CEOs of Microsoft, IBM and Alibaba among others from the developed as well as under-developed countries.
President Xi Jinping perfectly grasped the importance of the development of secure internet to the future of China. Consequently, he has placed great emphasis on being an active participant in such conferences.
Xi stressed the fact that China is fully committed to building a community of common future with the help of world leaders in order to ensure the wellbeing of humanity.
On numerous occasions, including this year's speech to the conference, he emphasized that China will exert every possible effort to promote open, equal, secure and inclusive cyberspace.
Hosting conferences that promote global collaboration such as the Third World Internet Conference solidifies China as a leading power in pursuing peaceful means to facilitate the exchange of technology and information with its counterpart countries worldwide.
As a foreigner who considers China to be his home away from home, I do hold great respect for China's efforts to create a world of common future for the betterment of the quality of the human lives. Listening to Xi's speech, I was impressed by its sincerity, frankness and realism.
Finally, most people worldwide, including me, wish exceptional success for accomplishing the objectives of the Third World Internet Conference.
Sava Hassan is a Canadian Egyptian educator,a poet and senior blogger of China Daily website.
The opinions expressed here are those of the writer and don't represent views of China Daily website.