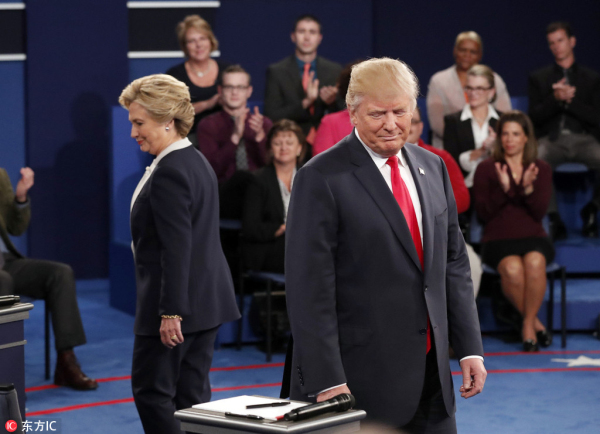 Democratic presidential nominee Hillary Clinton (L) and Republican presidential nominee Donald Trump arrive before the second presidential debate at Washington University in St. Louis, Sunday, Oct 9, 2016. [Photo/IC]
The 2016 US presidential election will produce a winner and a loser on Nov 8. To me, the losers will also include the US news media, which has lost its journalism objectivity in covering the race.
Recently, I was on a panel of international journalists discussing the 2016 election that was organized by the Columbia Global Centers and held in the Pulitzer Hall at Columbia University. Since I believe that journalists should be observers, not participants, I asked if the way the US news media has covered the election means the demise of objective US journalism.
Never did I expect that my words would make the headline of an article on the Columbia Journalism Review website the next day.
Bias in the news media has become obvious since before the primaries when US news outlets devoted disproportional space and time to Donald Trump, compared with 16 other Republican candidates who either withdrew or suspended their campaigns during the primaries. This was despite the fact that Trump did not score high during the initial polls compared to his rivals.
It doesn't take an expert to figure out that for many news organizations, Trump's often politically incorrect or outrageous language has been good for their ratings and readership numbers.
A study by the Harvard's Shorenstein Center on Media, Politics and Public Policy in June found that Trump received the equivalent of $55 million in free advertising from several major news outlets, including that worth $16 million from New York Times alone. The study concluded: "Trump is arguably the first bona fide media-created presidential nominee."
Meanwhile, the campaigns of candidates such as Bernie Sanders, were grossly under-reported. Most US news organizations have a tradition of endorsing a particular candidate, but that should not undermine the objectivity and fairness of their reporting.
However, this is what has happened during this campaign. If you read a US newspaper or watch a US TV channel these days about the election news, you can immediately tell which candidate they have endorsed.
That means they are not informing their readers and viewers but misinforming them.
For example, the news media has shown such enthusiasm for covering and spinning Trump's lewd conversation about women recorded on video many years ago that it overshadowed the coverage of serious campaign issues such as economy, terrorism, foreign policy, gun control and immigration-the main election issues for voters according to Pew Center surveys.
On the other hand, most news outlets have not shown nearly the same kind of passion to dig into the scandal of the Democratic National Committee's treatment of Bernie Sanders when he was competing with Hillary Clinton for the Democratic ticket.
A national Quinnipiac University poll released on Oct 19 showed that 55 percent of likely voters surveyed described the media as biased against Trump, while 42 percent, mostly Democrats, said there is no media bias against him.
On election night, New York-based ProPublica, which claims to be an independent news organization of investigative journalism, will launch a nationwide network of journalists, journalism students and concerned citizens to track and report on problems that prevent people from voting.
That could also include tracking and reporting the problems of US news organizations in covering the 2016 election.
The author is deputy editor of China Daily USA. chenweihua@chinadailyusa.com