Local govts' subsidies for property purchases serve their own interests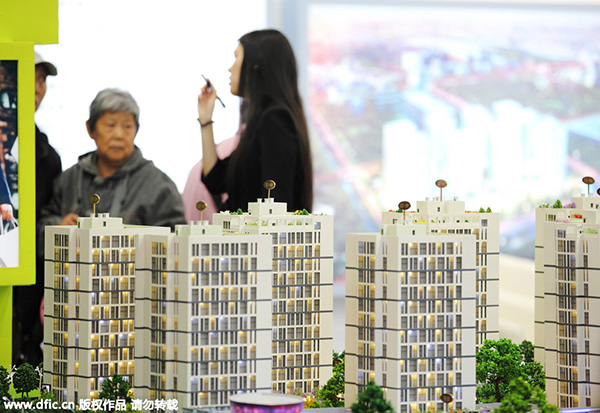 A sales woman introduces a property program to visitors at a spring real estate exhibition held in Beijing, April 17, 2015. [Photo/IC]
THE LOCAL GOVERNMENT OF YU'AN DISTRICT in the city of Lu'an in East China's Anhui province recently posted on its official website information about the house purchase subsidies it had provided, which shows that a person purchased 44 apartments in one single community, accessing subsidies of about 800,000 yuan ($115,456) in all. It is time to reconsider the policies of many local governments to subsidize property purchases, says Beijing News:
A staff member from the real estate market regulatory office responded that the subsidies provided to the person were all legal, because the policy of the local government did not set any ceiling on the number of apartments a person could buy. They just "never expected that one would buy so many".
That exposes a major loophole in the policy of subsidizing people who buy properties, which is quite popular among local governments. As the property markets outside the big cities are stagnant, many local governments have resorted to offering buyers subsidies in order to revitalize their local real estate markets. Yet the case in Lu'an shows how unfair these policies can be.
All the subsidies are public money and come from taxpayers' pockets and they might flow into the hands of the rich, who can afford to buy dozens of apartments, rather than those who struggle to buy one.
Rumor also says that the developer co-worked with the purchaser in order to obtain the subsidy. That might be unfounded, but the danger of such a kind of cheating exists and in case that happens, taxpayers' money goes directly to the hands of realty developers.
Although the top leadership has made it clear that "houses should be for dwelling, not investing", many local governments adopt one policy after another in order to stimulate the realty market. They do so because their interests are deeply interwoven in the real estate industry. They sell land to developers for commercial use, and if the realty market goes down, that might cut a source of income for the local governments. But such policies are unfair because they subsidize the rich largely with the money of the poor.