Scholar: Respect local market, priority for Chinese entrepreneurs going abroad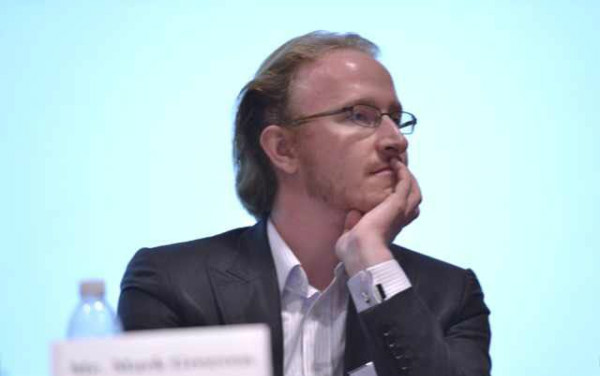 Dr. Mark Greeven, Associate Professor at the Innovation, Entrepreneurship and Strategy Department of Zhejiang University, was attending a conference. [Photo provided to chinadaily.com.cn]
Editor's Note: In a long-ranging interview with China Daily website, Dr. Mark Greeven, Associate Professor at the Innovation, Entrepreneurship and Strategy Department of Zhejiang University, School of Management, discussed advantages and challenges faced by Chinese companies going abroad. He suggested that Chinese companies exploring foreign markets need to adapt their business models to local business environments.
As the One Belt One Road initiative rolls out, many Chinese corporations are stepping up to co-finance, invest or contract projects with local companies along the Silk Road, while investors tend to be more worried about localizing projects and financial risks. Could you give some suggestions to Chinese companies to deal with this?
We are talking about investment and companies, and it actually depends on what kind of investment. While the public-private partnerships (PPP) have raised the most interest along One Belt One Road, most of the investors are governments or business owners, entrepreneurs, rather than venture capital or private equity investors. Chinese private risk capital is just starting to go abroad and invest into markets like US, Israel, Western Europe and India.
I think the most important question is whether they have developed a comprehensive understanding of the local market. Many countries along the One Belt One Road Initiative are relatively unknown and unfamiliar, especially considering the fact that many Chinese companies and investors have limited experience to begin with. They need to understand the local market better, collaborate with local partners, such as local companies, governments or investors, with a purpose to further mitigate business and financial risks. Chinese investors, particularly government or business owners, should be careful in choosing projects. So it's important thinking less about making money quickly, but more about long-term gains, especially considering the significant differences compared to doing business in China.
You've said in the past that "Chinese companies are held back by their general business approach. Many Chinese tech business models are built around an ecosystem of companies, products and technologies. These ecosystems are mostly localized, giving room for speed, flexibility and experimentation. But the challenge is then trying to build them abroad". How can companies adjust their strategies and explore mature markets in western countries?
These business approaches of Chinese internet companies such as Baidu, Alibaba, Tencent, Xiaomi and LeEco, are working well in China because they are developed right from and for the Chinese market. Once these companies go abroad, they must also adapt to the foreign business environment, just like foreign companies need to adapt to the Chinese market.
There are basically two approaches. They could also use the current way to build an ecosystem, but build it abroad, maybe by merger and acquisition, investment, partnership, collaboration. The example could be LeEco. They have recently expanded their US operations, while at the same time they are also facing challenges. Of course, it is possible to build a similar ecosystem outside of China, but it is not easy and carries considerable risk. For instance, Alibaba has met many other competing ecosystems in the US and Europe, like Amazon, Google and Apple.
Alternatively, these internet companies could change their business model. They may start their foreign expansion slower, in a step-by-step approach, like Huawei and Haier, to build up the company, mostly via green field investments and deeper understanding of the local market. This strategic approach is more organic and less aggressive with more strategic control of the operation abroad but at the same time it is much slower. Generally speaking, exploring mature markets may not be as fast as in China and Chinese companies, including internet companies, should be aware of the wide diversity of European markets and consumer behavior, let alone other markets.
You've also noted that western customers tend to hold negative views on Chinese products, could you analyze the reasons behind this phenomenon?
Three decades ago, Chinese products did not have a good reputation for quality. While recently the quality of Chinese products is improving, many western consumers have not yet recognized that because many of these products do not have a Chinese brand (or recognition thereof) yet, as the majority is still an Original Equipment Manufacturer. It is companies like Huawei and Lenovo that are changing this impression.
Secondly, Chinese companies are not particularly good at overseas public relations and communications compared to foreign companies. Chinese companies should better understand the local market, channels and media to improve their brand position and market visibility in an often already saturated local market.
The 2017 World Economic Forum in Davos is about to be held. As a scholar from the Netherlands, what topics should be the focus? Chinese leaders will be there, what role do you expect China to play in the global economy next year?
Let me put it in this way, Chinese people know more about the world than the rest of the world knows about China. I think one topic that should be discussed during the World Economic Forum should be how China could better connect with the world, how to make more people understand Chinese companies and products, Chinese business models, to further promote economic collaboration, to further promote innovation across the countries.
The second topic may be the financial markets. One concern of European countries is that we need a stable RMB. Another concern is the property bubble in the Chinese real estate market, accompanied by domestic control of money flows and easing of foreign investment inflow as we have seen in the last months. At the same time, RMB internationalization and Chinese overseas investment, although growing, appear to be increasingly controlled and constrained by the Chinese government, which may not be a bad thing for China's domestic market. But this of course is also of great interest for Europe, especially in the currently unstable global markets. Perhaps this discussion should also be about the presidency of Trump and Sino-US relations.