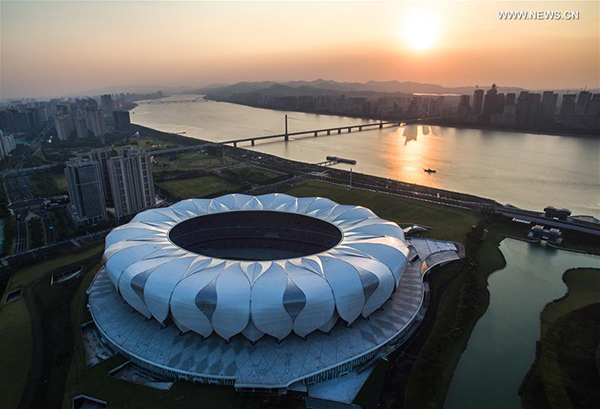 Photo taken on Aug 25, 2016 shows the Hangzhou Olympic Sports Center in the Binjiang district of Hangzhou, capital of East China's Zhejiang province. Hangzhou is the host city for the upcoming G20 Summit.[Photo/Xinhua]
This century has seen extraordinary developments in China's long history as a great trading nation. In 2001, China was admitted to the World Trade Organization, and in 2015, the renminbi was admitted to the International Monetary Fund's basket of reserve currencies.
China's economic ascendancy has coincided with deeper engagement and interdependence with its trading partners. This year, China will for the first time host a G20 Leaders Summit.
Chairing the world's top forum for economic cooperation is an exciting moment for the nation. In remarks delivered at the 2015 summit in Antalya, Turkey, that were warmly supported by professional accountants, President Xi Jinping called for the world to shoulder a collective responsibility to promote growth.
Bound by a strong code of ethics and a duty to the public interest, our profession (of accountants) occupies a unique, strategic role supporting global trade and commerce. In a study by the International Federation of Accountants this year, the profession was estimated to contribute more than $500 billion in added value to the global economy.
The federation represents the views of almost 3 million accountants through its member organizations, including the Chinese Institute of Certified Public Accountants, which has more than 220,000 members nationwide. Our shared interest in strong financial management, transparency, accountability and enhanced governance is based on the belief that these components are essential for sustainable, long-term, economic growth and better outcomes for the world's citizens.
On the global profession's behalf, the federation has for many years urged the G20 to actively promote enhanced public sector financial management, better organizational governance, and global regulatory consistency-in particular the worldwide adoption and implementation of high-quality international standards.