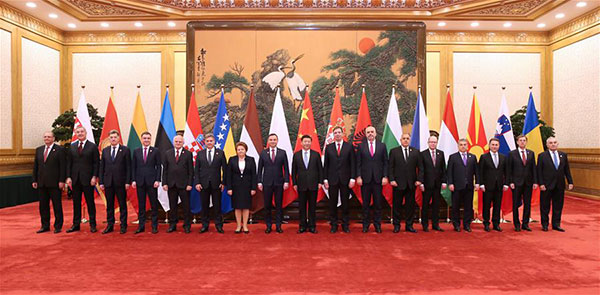 Chinese President Xi Jinping (9th L) poses for a group photo with leaders attending the 4th Summit of China and Central and Eastern European (CEE) countries, in Beijing, capital of China, Nov. 26, 2015. [Photo/Xinhua]
President Xi Jinping's visit to Belgrade is a big event. Unlike some other Central and Eastern European countries, Serbia is not a European Union member. Because of a dispute with Brussels on the issue of Kosovo's status, maybe it never will be. Although Serbia has signed trade agreements with the EU, political tensions between Belgrade and Brussels persist.
China has become the largest single investor in Serbia. And the geographical position of the country has made it critical to the realization of Belt and Road Initiative strategy of China. Chinese investors are no longer present only in the sectors of infrastructure and energy. In April, HeSteel bought the only steel factory in Serbia, and memorandums on further cooperation in the information technology and agriculture sectors were signed. Serbia is the only European country that has started negotiations with the Eurasian Economic Union on a free trade agreement. This is significant for Serbian agriculture, which is increasingly turning toward the Russian market.
For Chinese investors, this may be an additional motive. Despite not having a big territory, Serbia still occupies an ideal position for duty-free export of all that is produced within its territory. For the new strategic positioning of Serbia, China is in the long run probably the most important partner.