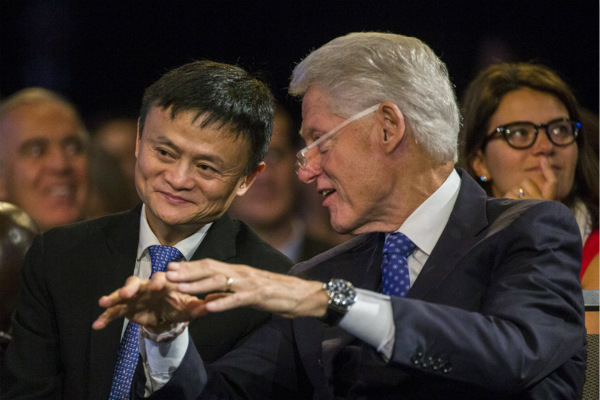 Former US president Bill Clinton talks with Jack Ma at Clinton Global Initiative's annual meeting in New York, on September 29, 2015. [Photo/ VCG]
Jack Ma, founder of domestic e-commerce giant Alibaba Group, provoked discussion online when he said in a recent speech that the e-business model enables original equipment manufacturers to sell goods of similar quality to those of international brands but at much cheaper prices. But Southern Metropolis Daily says the idea is more important than the manufacturing process and it involves intellectual property rights:
What should be discussed in detail is that some of the OEMs are ignorant of brand owners' IPR and simply copy the styles of international brands without authorization. There are loopholes in the law that can be easily exploited.
Alibaba is a victim of fake goods, too, as the credit of its e-commerce platform, Taobao.com, has suffered. Ma even said he had a team of 2,000 that sought to combat piracy and fake goods. We do not mean to blame e-commerce, but it has made it more convenient for illegal businesses to sell fake goods, especially when online policing of sales remains sketchy.
Yet fake goods are rather detrimental to the credit of both Alibaba and the whole of China. The country has long been proud of its manufacturing industry, but if illegal businesses make use of the industry to produce fake goods, that will only ruin it in the long run.
If fake goods and their makers continue escaping due punishment in China, the international brands might gradually give up their cooperation with Chinese OEMs and choose other partners instead. If that happens, China's manufacturing industry will face a major challenge.
It is time for China to improve its legislation and encourage domestic creative industries, so that more Chinese enterprises produce goods with their own brands, instead of simply working for others.