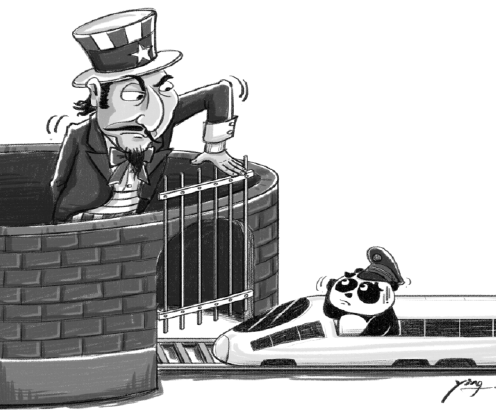 WANG XIAOYING/CHINA DAILY
XpressWest Enterprises, a private US railway company, unilaterally terminated a deal with China Railway International on Jun 8 to build a high-speed railway line from Los Angeles, California, to Las Vegas, Nevada.
Just nine months ago, XpressWest had announced that CRI, the Chinese consortium made up of several State-owned railway equipment subsidiaries and service providers, would build the 370-kilometer railway. The work on the project was scheduled to start in September and total investment was estimated to be $12.7 billion.
China Railway Corp, CRI's main shareholder and the country's railway service provider, will take all necessary measures to ensure that its interests in the United States are protected, a consortium official has said.
The US railway company's action came at a time when Donald Trump and Hilary Clinton seem set to win the Republican and Democratic nomination race to face off in the November presidential election, prompting some to see a link between the two events.
The truth, however, is that CRI will face similar speed bumps with or without the elections. It is its competitiveness in running high-speed trains that US trade protectionists are afraid of. And that is also the reason why XpressWest suddenly backed out of the deal, although it said its decision was based on "the federal government's requirement that high-speed trains must be manufactured in the United States".
No high-speed trains are "manufactured" in the US, at least until now. XpressWest should have acknowledged the "fundamental barrier" at home when it signed the agreement with CRI. Apparently, the US company lacks the sincerity to cooperate with a Chinese enterprise in a promising railway project, even if the latter has the capability and capacity to provide sound technological support at relatively low costs.
The US does need Chinese investments to create more jobs for its people, and it has granted less competitive Chinese enterprises, like those in the service and agricultural industries, easier entry into its market.
Although the termination of the railway project is unlikely to deal a blow to China-US exchanges, it is worth noting that Beijing's promotion of its high-speed railway business has made little progress overseas, especially in North America, while facing fierce competition from Tokyo, a global leader in building and running high-speed trains, in Asia.
Chinese railway companies are still learning how to "go global" and efficiently integrate into the country's Belt and Road Initiative. Many of their offers were either turned down or temporarily stalled because some countries had certain concerns over Chinese investments or for the lack of long-term planning for overseas railway projects.
To avoid repeating such mistakes, all companies promoting China's high-speed railway projects overseas should base their investment on feasibility and the real market demand, instead of blindly seeking to reduce their overcapacity.
In particular, they have to abide by other countries' laws and regulations on foreign investment while seeking closer cooperation with local governments and enterprises, as well as take precautions to deal with foreseeable institutional frictions, even though the Chinese government is obligated to provide the necessary diplomatic protection for the companies' legal interests and rights.
The author is a researcher at the China Institutes of Contemporary International Relations. The article is an excerpt from her interview with China Daily's Cui Shoufeng.