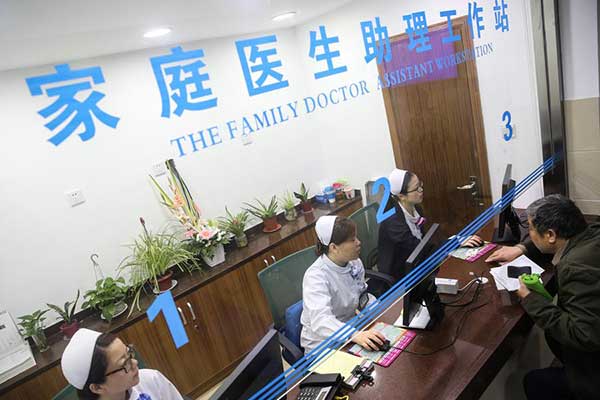 By 2017, more than 30 percent of the entire population, including over 60 percent of the priority groups, will be able to enjoy contractual services from family doctors, according to the guideline.[Photo/Xinhua]
A 10-year-pld pupil was stabbed in a bus in Central China's Hunan province on Monday. The suspect had been stalking the boy as he had a grudge against the boy's father who is a doctor. Beijing Times commented on Wednesday:
Because of discontentment or a misunderstanding that arose during the course of his medical treatment, the suspect decided to use violence to settle the dispute with his doctor. This was a particularly heinous action as he targeted the doctor's child. Although this is an extreme case, it shows the divide between doctors and patients.
But doctors and patients actually share the same interest, which is curing illness. The violence triggered by the conflicts between the doctors and patients have been magnified. We should not only be responsive to the relevant cases but also proactively take some protective measures.
In this regard, we can learn from some of the practices of the United States. US society expresses no sympathy for trouble-makers in hospitals and police departments usually take immediate action toward any violent behavior.
In China, however, people's attitudes toward similar happenings appear very ambiguous. Greater attention is given to the trouble-makers and more moderate approaches have been taken to deal with those who resort to violence.
In this atmosphere, some patients deliberately take extreme action to grab people's attention or sympathy.