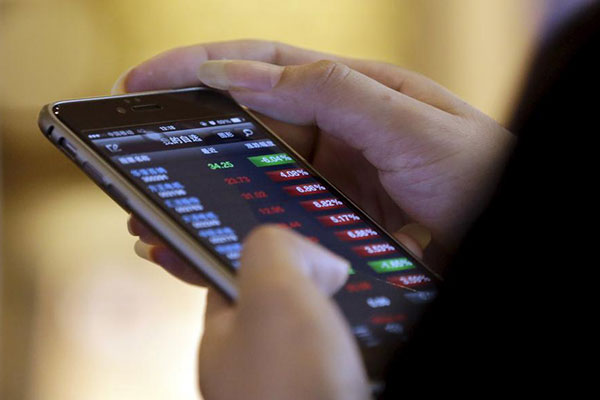 A man checks share prices on his mobile phone while waiting for his coffee at a Starbucks branch in Beijing July 16, 2015.[Photo/Agencies]
For Chinese investors who have been expecting introduction of more international institutional investors to boost the domestic stock market, it is disappointing that Morgan Stanley Capital International has again delayed adding Chinese shares to its benchmark emerging markets index.
One year after last summer's stock crash, Chinese shares are still struggling to have a solid foothold. But the poor performance of the Chinese stock market should not be made an excuse to deny its long-term significance to both the Chinese economy and investors at home and abroad.
In retrospect, it seems wise for Morgan Stanley to have deferred inclusion of Chinese A-shares in one of its key indices last June just as the benchmark Shanghai Composite Index peaked at 5,178.19. With the Shanghai index still struggling below 3,000 nowadays, an early Morgan Stanley nod would have done little to China's integration into the global market by prematurely exposing global investors to the tumult of China's stock market.
Yet a move to make Chinese stocks a bigger part of the global portfolio is inevitable.
Morgan Stanley's decision to delay the inclusion of Chinese shares in a key index tracked by international institutional investors who may inject tens of billions of dollars into the world's second-largest stock market should therefore not be interpreted as a vote of no confidence. Instead, it should be seen as an urgent call for greater efforts to repair and revive the Chinese stock market.
A well-functioning stock market is needed more than ever to help revitalize domestic private investment, a key growth engine for consumer-oriented innovation and service.