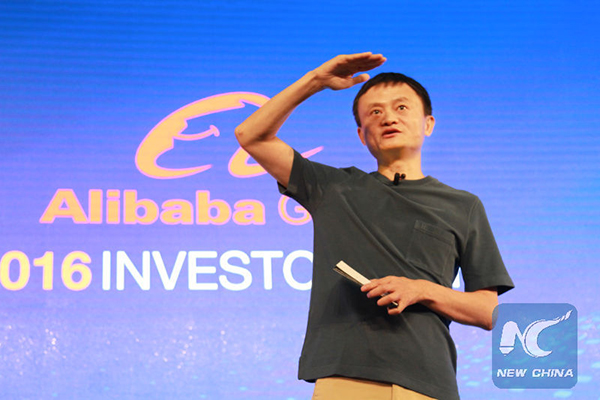 Alibaba's Executive Chairman Jack Ma delivers a speech at an investor conference at the company's headquarters in Hangzhou, East China's Zhejiang province, June 14, 2016. [Photo/Xinhua]
Jack Ma, the founder of e-commerce giant Alibaba, courted controversy this week when he said many fake products are even better than branded goods. His comment seemed to be part of his fight back after Alibaba was driven out of the anti-counterfeiting coalition and widely criticized as a "platform" to sell fake goods.
In May, Alibaba Group was suspended from membership of the Washington-based International Anti-Counterfeiting Coalition, or IACC, only one month after it gained its membership, because of the accusations that it failed to control fake goods on its online e-commerce platform. Is Alibaba's work of fighting against fake goods less than satisfactory, or are the critics in the IACC unfair to Alibaba?
Alibaba is the biggest e-commerce platform in the world. Its customer to Customer (C2C) model, represented by its online platform Taobao, and Business to Customer (B2C) model, represented by its online platform Tmall, are Alibaba's major business models. In 2014 Alibaba officially launched its Tmall platform, on which international brands could directly sell their products to Chinese customers.
Alibaba has been criticized for fake goods ever since it was founded. Not all the commodities sold on Alibaba's platform are fake. But as a third-party platform that has millions of small online shops, low prices are the most important means of competition among sellers. This is why it is so difficult to eliminate fake goods from the platform. Although Tmall has comparatively strict requirements on market access, nowadays there are still fake goods appearing on the platform.
Alibaba has made great efforts to fight against fake goods in recent years, especially putting its strategic focus on B2C platform Tmall, which is characterized by brand and quality, instead of the C2C third-party platform Taobao. Alibaba's IACC membership indicates that the Coalition has recognized Alibaba's efforts in fighting against fake goods.
According to Alibaba, it has established a channel to safeguard intellectual property in 2002, even earlier than the establishment of the Taobao platform. In 2005 Alibaba established a security department to maintain account security, information protection and anti-fraud work. In 2011 Alibaba launched a specific offline campaign to crack down on fake products, in which Alibaba employees voluntarily fight against offline fake goods through cooperating with departments of industrial and business administration and public security.
In Dec, 2015, Alibaba established a department to deal with e-commerce platforms issues, protecting intellectual property and cracking down on fake goods through cooperating with related government authorities.