China, 16 CEE countries issue declaration in Ningbo to improve ties
By Guo Rong ( chinadaily.com.cn )
Updated: 2016-06-09 19:38:53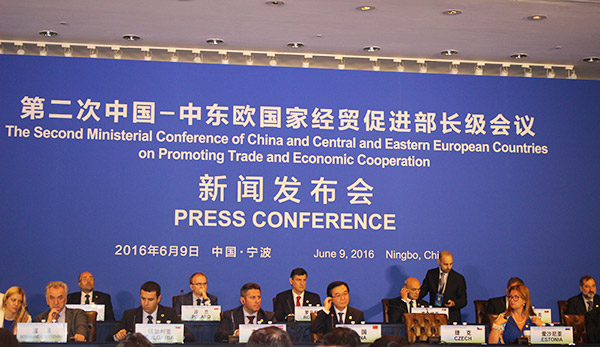 The press conference of the 2nd Ministerial Conference of China and Central and Eastern European Countries on Promoting Trade and Economic Cooperation is held in Ningbo, June 9, 2016. [Photo by Guo Rong/chinadaily.com.cn]
Ministerial officials and representatives of China and Central and Eastern countries attended a meeting on Thursday in Ningbo, East China's Zhejiang province, on promoting trade and economic cooperation.
The 16+1 framework has become an import platform for the cooperation between China and the 16 CEE countries, said Gao Hucheng, Chinese minister of commerce.
China wishes to connect China's Belt and Road Initiative with the development strategies of CEE countries to achieve a win-win situation, Gao added.
The Ningbo Declaration was issued today after the meeting, which highlights the cooperation between China and CEE countries in diverse fields, such as agricultural products, e-commerce, high technology and infrastructure construction.
Representatives from the CEE countries expressed their satisfaction with the positive results of the conference.

We will not give up search, Li vows
International hunt for missing airliner continues after fruitless six-day search