On May 4th, Mr. Lyu Zexiang, President of CGGC International, was invited to attend the 6th China-CEE (Central and Eastern European countries) "16+1" Cooperation Forum, i.e. the 7th Sarajevo Business Forum (SBF) in the capital of Bosnia and Herzegovina (BiH). Mr. Lyu called on Mirko Sarović, Deputy Prime Minister and Minister of Foreign Trade and Economic Relations of Bosnia and Herzegovina, and Prime Minister Fadil Novalić of the Federation of Bosnia and Herzegovina. In addition, Lyu and Elektroprivreda Bosne i Hercegovine signed the supplementary agreement to Tuzla Coal-fired Power Station Contract, reaching a consensus on pushing forward the early groundbreaking of this project.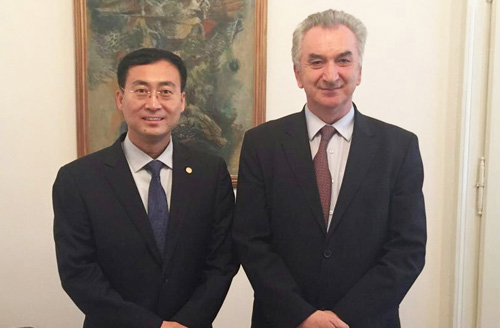 Lyu appreciated Deputy Prime Minister Sarović and Prime Minister Novalić for their continuous and effective support to CGGC's development in BiH. The two prime ministers were glad at the presence of Lyu and his delegation in the forum and grateful for CGGC's remarkable work in BiH's energy and infrastructure construction, willing to back up CGGC in the future.
During the conference, Lyu also took part in a symposium in the theme of "Regional Energy: Opportunity, Development Tendency and Incentive Mechanism" and delivered a keynote speech of "Extending Practical Cooperation with Central and Eastern European Regions". Other participants meeting with Lyu included Deputy Director Ning Jizhe of National Development and Reform Commission of China, Vice Governor Zhang Jiehui of Hebei Province of China and Chinese Ambassador Chen Bo in BiH.
Vice President Wang Yimin of CGGC International participated in the above event.