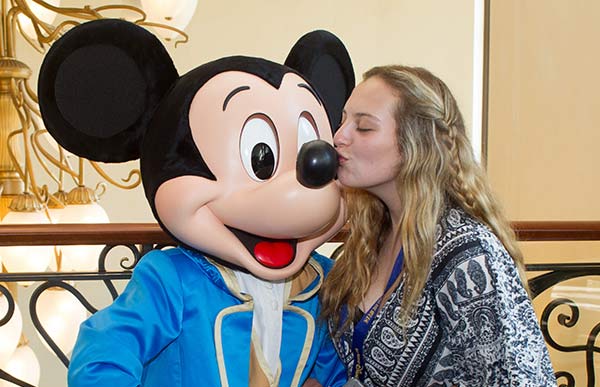 An international visitor kisses a Mickey Mouse in a Chinese style outfit at Shanghai Disneyland.[Photo by Gao Erqiang/China Daily]
Shanghai Disney resort, which officially opens on Thursday, reportedly received more than 600,000 visitors during a month's trial period ahead of its opening. Beijing News commented on Thursday:
Shanghai Disney Resort's prospects are bright, given the enormous popularity of the company's other theme parks with Chinese. The number of visitors could easily reach 20 million in the first year, as estimated. It is also likely to contribute at least 100 billion yuan ($15 billion) to Shanghai's economy per year.
Some, however, remain skeptical of the theme park's future, presuming that it will struggle to make ends meet in years to come after its initial appeal wears off, because the characters such as Mickey Mouse and Donald Duck are outdated and Shanghai's weather is not favorable to the park.
But the truth is, the park's well-being in essence rests with the Disney intellectual property, which will continue to thrive and generate considerable wealth as well as profitable derivatives.
Indeed, the company is expected to gain even more Chinese fans after the Shanghai park opens, as the company owns a series of new intellectual property creators including Pixar, Marvel, and "Star Wars", each having a great number of die-hard followers across the globe. Thanks to its successful mergers over the past decade, recent Disney movies such as Zootopia and Captain America 3 have claimed sweeping victories at the box office.
Admittedly, an increasing number of homegrown theme parks have been built in many Chinese cities, yet the vitality of their intellectual property is not as impressive and enduring, even though many of them have a lot of fans at home.
In most cases, they are either sponsored by some real estate enterprises to promote their property businesses, or simply exploited to attract government subsidies. That to some extent explains the seeming prosperity of Chinese theme park promotion.
China's cultural industry still needs time to improve its intellectual property.
In the meantime, it requires not only government funds but also market-oriented competition to encourage cultural innovation.