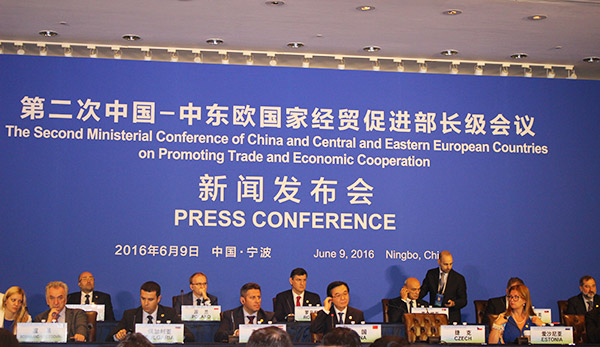 The press conference of the 2nd Ministerial Conference of China and Central and Eastern European Countries on Promoting Trade and Economic Cooperation is held in Ningbo, June 9, 2016. [Photo by Guo Rong/chinadaily.com.cn]
President Xi Jinping's visit to Serbia, Poland and Uzbekistan has attracted special attention because China's top leader has not been a frequent visitor to these countries. This is also Xi's first visit to the Western Balkans, his second to Central Europe within three months and his fourth to Central Asia.
These diplomatic arrangements, therefore, reflect China's determination to boost its comprehensive cooperation with Central and Eastern European countries and Central Asian countries in the context of its Belt and Road Initiative, the Silk Road Economic Belt and the 21st Century Maritime Silk Road. They also show, from China's perspective, the significance of Serbia, Poland and Uzbekistan in the regions.
In 2012, China proposed a new type of cooperation framework with Central and Eastern European countries (China-CEEC) to develop a comprehensive relationship with 16 CEE countries, including Serbia and Poland, which became strategic partners of China in 2009 and 2011, respectively. Since then, the Serbia and Poland, despite the changes in governments, have provided strong political support to the 16+1 cooperation framework as well as the Belt and Road Initiative.
There is obviously a political consensus in the two countries on the need to deepen cooperation with China. The most recent evidence of this was seen in March when the lower house of the Polish Parliament (or Sejm) unanimously ratified an agreement for Warsaw to participate in the Asian Infrastructure Investment Bank, which made Poland officially the first and only founding member of the AIIB in Central and Eastern Europe.