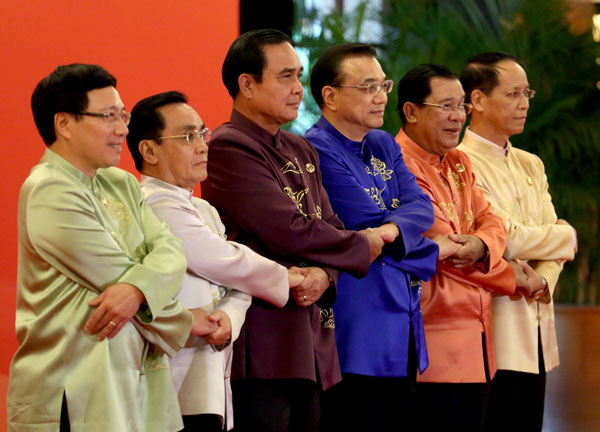 Premier Li Keqiang (third from right) poses with Thai Prime Minister Prayut Chanocha (third from left), Cambodian Prime Minister Hun Sen (second from right), Laotian Prime Minister Thongsing Thammavong (second from left), Myanmar Vice President Sai Mauk Kham (right) and Vietnamese Deputy Prime Minister Pham Binh Minh (left) at a welcoming ceremony on Tuesday before the Lancang-Mekong Cooperation Leaders' Meeting, scheduled for Wednesday, in Sanya, Hainan province. WU ZHIYI / CHINA DAILY
The first Lancang-Mekong Cooperation Leaders 'Meeting held in Sanya, South China's Hainan province, on March 23 has got a popular Chinese nickname, "blueberry" mechanism, because its abbreviation sounds exactly like the nutritious fruit in Chinese. This reflects the close relationship between China and the countries that it shares the river with.
Flowing out of China's Qinghai-Tibet Plateau, the Lancang River, known as the Mekong River in the middle and lower reaches, meanders through China, Myanmar, Laos, Thailand, Cambodia and Vietnam before emptying into the South China Sea. Some 326 million people live along the nearly 5,000-kilometer-long water body, which has a total drainage area of almost 800,000 sq km. And the combined trade volume between China and the five countries through which the Mekong flows was about $200 billion in 2015.
As Hu Zhenyue, vice-chair of China Public Diplomacy Association, said at an international forum in Bangkok last week, the six countries are destined to be cooperative partners because they are bonded together by the same river. Bangkok played host to the first international conference after the Sanya meeting that saw the participation of experts and scholars from the six Lancang-Mekong countries. Organized by Thailand's Institute of Security and International Studies, the forum discussed ways to realize the roadmap adopted at the Sanya meeting.
"The LMC is aimed at reducing disparity among the countries and realizing common social and economic development by deepening cooperation. It will contribute to regional integration and boost relations between China and the Association of Southeast Asian Nations," Hu said.
To this end, he said both long-term and mid-term planning for pragmatic and sustainable cooperation is needed, and the six countries should cater to the needs and concerns of each other and incorporate the sub-regional goals into their own development blueprints so as to bring tangible benefits to their peoples.
China's move to discharge water from Jinghong Dam from March 15 to April 10 to help the countries in the middle and lower reaches of the Mekong River overcome drought-like conditions proves that it is responding in a prompt and efficient manner to the concerns of its neighbors.