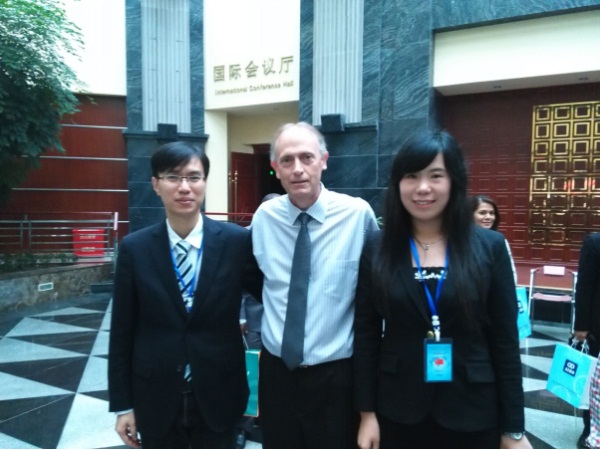 Ferdie poses for a photo with friends in Southwest Jiaotong University in Chengdu,the provincial capital of Sichuan province in Southwest China. [Photo provided to chinadaily.com.cn]
How can my impression of China be anything else but "overwhelmingly positive"?
Since my first visit to Beijing in 1997 and so many return visits to different regions and cities, I have never been disappointed, never been treated unfairly or never returned to Africa unfulfilled.
2015 was no exception.
Twice this year I was privileged to visit. In April I went to Guangzhou, Shenzhen and Xiamen before returning via Hong Kong. In October I started in Beijing, then Shanghai, Chengdu and Xi'an before returning via Shenzhen.
We all know China is a country supporting a population counted in the millions but on every visit it amazes me in the way all things stay organised, disciplined and friendly. It does not matter which region or city I visited during the past 18 years, China's people will always be its greatest asset.
The fast growth and development, economic rise and the manner it is implemented and managed are fascinating but it will never surpass the beauty and openness of its diverse people. The astounding history, culture and social intricacies are second to none but meeting people throughout this wonderful country, building relations and making friends for a lifetime must be the best gift any visitor to China receives.
Most of my visits between Africa and China have been business, technology or institution-focused. These visits have been successful in that regard but will never touch the highs and excitement created by meeting new people, learning from them and reuniting with those I met during previous visits.
How can I ever be thankful enough to the old Chinese man lost next to a highway in South Africa in the year 1992? Little did I know that stopping that late night at 11pm to pick up a lost visitor from China would change my life in such an incredibly deep way. Making the choice to take him home that night and seeing him reunited with his children the next day was no small matter. One small moment in time brought about a myriad of wonderful moments during the years that followed.
The old man, almost 80 when I picked him up, passed away more than 10 years ago, but the connection made with China then will forever be part of my life. I have visited almost every country of our world, and that includes many in Africa, Europe, South America, the USA, Middle East, Malaysia, Singapore, Ukraine, Turkey and more, but never has any one country or region impressed me or influenced me like China because of the routes of this one old man.
2015 was just another fantastic growth experience of travelling through China and I am honored to have made many new friends, established lots of new relations and been part of so many new memories. Many of these are captured in pictures of historic value, like visiting the Terracotta warriors site outside Xi'an, walking the 13-km inner-city wall or making the 16-hour old slow train journey through the mountains from Chengdu to Xi'an and going to the Panda sanctuary in Chengdu or the many high speed trains between the large cities of Beijing, Shanghai, Hunan, Shenzhen and Xiamen. Surely the best memories are the one-to-one talks with university students strangers next to the road or the unplanned meetings with the various people crossing my many paths.
I'm looking forward so much to 2016. Another wonderful year is waiting to be explored.
Where will I visit? I don't know yet but it will be somewhere in China, it will be as often as I can and it will benefit Africa because the China-Africa connection is a fascinating relationship that will influence the world during the next 20 years, no doubt.
If you want to share with us your experiences in China during the past year, please join us and you will have a chance to win a Kindle.
The opinions expressed here are those of the writer and don't represent views of China Daily website.