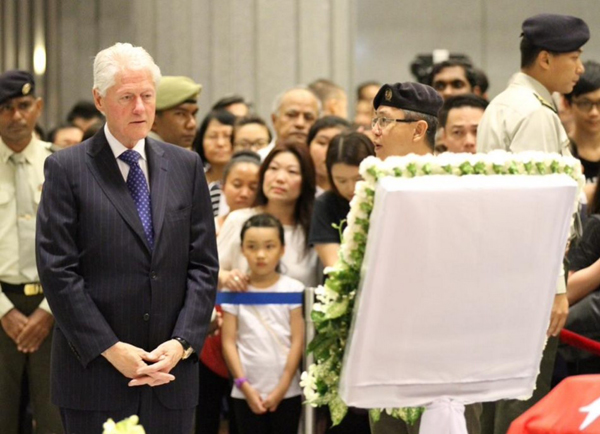 Former US president Bill Clinton pays his respects to the late Singaporean Prime Minister Lee Kuan Yew in Singapore, March 28, 2015. [Photo/Sina]
On Sunday, Singapore held a state funeral for Lee Kuan Yee, its founding premier who passed away recently. Delegations from many nations, mostly headed by current or former state senior leaders, attended the ceremony. Comments:
During his 92 years of life, Lee made many significant contributions to the politics of Singapore, one of which was his strong determination to fight corruption. Since it was founded in 1954, the People's Action Party under his leadership, promised to stay clean. When it took power in 1959, it drafted and implemented a series of anti-graft regulations and laws to punish any official found to be corrupt. Singapore now features clean politics and Lee was the main architect of this.
People's Daily, March 29
The former chief executive of Hong Kong Tung Chee Hwa described Lee as a giant of the times. His wisdom and forward-looking vision, great perseverance, strong leadership and concern for the people he led, transformed Singapore from a trading port into a prosperous country of which people are proud, and one that plays a unique role in the international arena.
news.gov.hk, official website of the Hong Kong Special Administrative Region government, March 28
Chiam See Tong, Lee's lifetime political opponent, bid his last farewell to Lee with assistance because he can hardly walk unaided now. Chiam opposed Lee since the 1970s, yet the latter never threw him into prison. Respect for a political opponent, that is what distinguishes authoritarian rule from a dictatorship, as well as what gained Lee so much honor.
Xu Shaolin, independent commentator, in a micro blog, March 27
Many people said that Lee was strong and powerful, yet legal citizens never feared him, and those with deep consideration and proper logic could persuade him to change his mind. His sincerity won for him respect and support from the whole nation, even the international community. The fact that over 100,000 people, many of whom stood in the queue for hours to bid farewell to him proves the wide support he enjoyed. That's the real honor for him.
zaobao.com, March 29