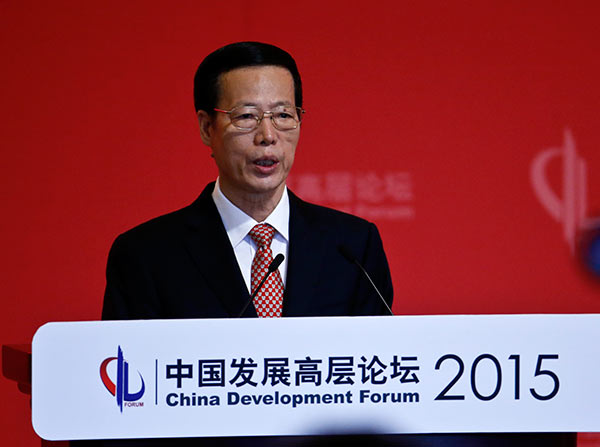 Mass entrepreneurship and innovation will serve as one of the twin engines of the country's economic development, said vice-premier Zhang Gaoli at China Development Forum 2015 on Sunday. [Photo by Feng Yongbin / chinadaily.com.cn]
The State Council, China's cabinet, has vowed to break the ideological and institutional barriers that obstruct system innovations and tap the potential of society, and called for the accelerated implementation of an innovation-driven development strategy.
Such a strategy is of vital and long-term practical significance for the country. Only through institutional reforms can the country break through the barriers put up by established institutions and eliminate the mechanisms that restrain innovation.
To expedite the implementation of its innovation-driven development strategy, the market must be given a decisive role in the distribution of resources and the government must refrain from using its invisible hand to intervene in market activities. The government should considerably reduce administrative interventions in market-based projects and technological innovations. Instead, it should focus more on establishing an innovation incentive mechanism and creating an environment for equitable and fair competition.
With the State Council initiating a change whereby research personnel funded by the State coffers enjoy the returns on their scientific and technological achievements, instead of being at the disposal of the State, they will have more incentive to invent and it will accelerate the industrialization and the market entry of innovations. This change to the distribution of returns is expected to provide a significant boost to research and the pursuit of innovations. The need to change the drivers of growth means accelerating the implementation of an innovation-fuelled development strategy is essential. Only in this way can the country really bid farewell to the past excessive dependence on investment and scale expansion model.
As only in this way will there be a source of endless endogenous vigor for sustainable and good-quality growth.
The above is an abridgement of a Xinhuanet opinion article.